Germany ifo Business Climate dropped to 95.9 in January, down from 96.3, missed expectation of 97.0. Current Assessment Index rose to 99.1, up from 98.8, but missed expectation of 99.4. Expectations Index dropped to 92.9, down form 93.9, missed expectation of 95.0.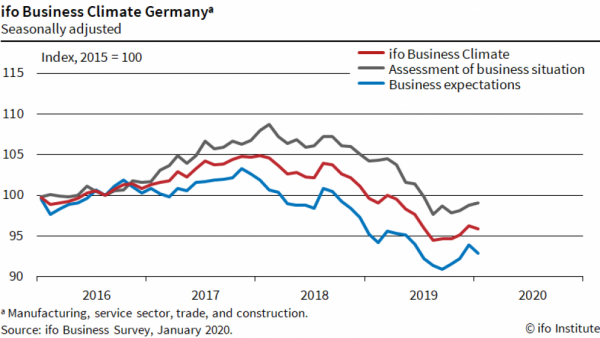 Ifo President Clemens Fuest said the decline in the headline index was "due to companies' more pessimistic outlook for the coming months". The German economy is starting the year "in a cautious mood".
Manufacturing "improved markedly", up from -5.0 to -1.6, and is showing "signs of recovery". But services indictor "fell noticeably" from 21.3 to 18.7, "due to companies' considerably more restrained expectations". Trade rose from 0.0 to 2.2 while construction dropped from 17.9 to 14.0.