Germany PMI Manufacturing rose notably to 47.8 in February, up from 45.3, beat expectation of 44.8. That's the highest level in 13 months even though it's staying in contraction. PMI Services, however, dropped to 53.3, down form 54.2, missed expectation of 54.0. PMI Composite dropped slightly from 51.2 to 51.1.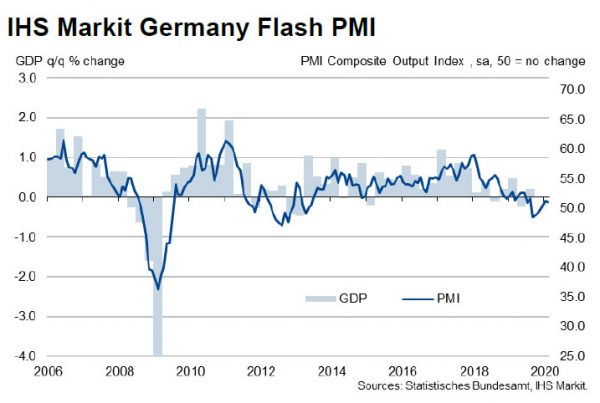 Commenting on the flash PMI data, Phil Smith, Principal Economist at IHS Markit said:
"February's 'flash' PMI results show that the German economy managed to eke out another marginal increase in business activity, despite a fresh setback to exports in the wake of the outbreak of the coronavirus.
"Reports from surveyed businesses indicate that, so far, disruption to manufacturing production from supply issues has been fairly limited, but these are still early days in what could potentially be a lengthy saga.
"The signs from the data are that domestic demand remained in good health, with service sector activity continuing to rise despite reports of lower tourist numbers, and even manufacturers noting a slowdown in the rate of decline in new orders despite plunging export sales.
"The manufacturing PMI defied expectations in February to move to its highest in 13 months. Though there were positive contributions from all five components, the observed jump in the headline index flatters the sector's current trajectory, with longer input delivery times stemming from disruption to supply chains in China having an unduly positive effect."