Eurozone PMI Manufacturing rose to 49.1 in February, up from 47.9, and beat expectation of 47.5. It's the highest level in 12 months, even though it stayed in contraction region. PMI Services rose to 52.8, up from 52.5 beat expectation of 52.2. PMI Composite rose to 51.6, up from 51.3.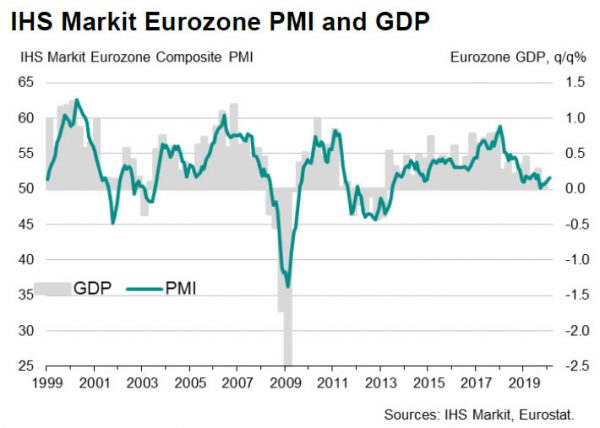 Commenting on the flash PMI data, Chris Williamson, Chief Business Economist at IHS Markit said:
"The eurozone economy managed to pick up some momentum again in February despite many companies having been disrupted in various ways by the coronavirus, which caused supply problems and showed signs of hitting travel and tourism numbers in particular. The flash PMI has climbed to a six-month high, consistent with GDP growing at a quarterly rate approaching 0.2%.
"The expansion is being led by welcome resilience in the service sector but manufacturing is also showing encouraging signs of pulling out of the downturn that has plagued producers for over a year, with new orders falling at the slowest rate since late-2018.
"However, the outlook remains highly uncertain, notably in respect to the potential for further disruptions to supply chains, travel, tourism and demand arising from the coronavirus outbreak. In particular, the widespread delivery delays seen in February bode ill for production in March unless new deliveries can be secured.
"While the February survey data are welcome news in a month in which media headlines have been dominated by fears of economic growth being hit by the COVID-19 outbreak, the full immediate impact may not yet be apparent."