Japan PMI Manufacturing is finalized at 38.4 in May, down from April's 41.9, lowest since March 2009. Markit said production fell at sharper rate as coronavirus disruption continued. New orders plummeted to an extend not seen since the global financial crisis. Suppliers' delivery times lengthened sharply once again.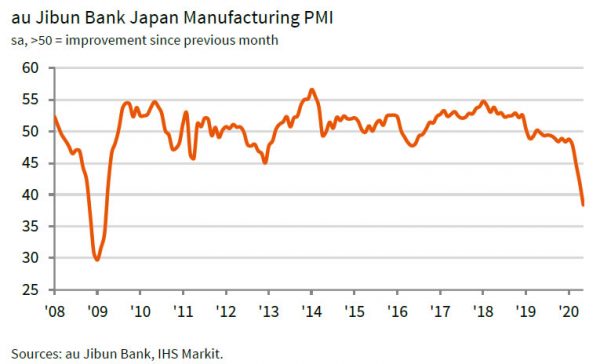 Joe Hayes, Economist at IHS Markit, said: "While easing lockdown measures will be positive for the economic environment, it is clear that dislocations will remain, which will continue to hinder supply chains, impact global trade and make operating conditions challenging for manufacturers. Until we see a sustained improvement in demand, manufacturing conditions are likely to remain fragile."
Also from released, capital spending rose 4.3% in Q1, versus expectation of -4.2% decline.