Yesterday's cooling US consumer inflation data in May provided further solid ground for Fed to bypass tightening at today's rate announcement. Fed funds futures now suggest a 95.4% probability of Fed maintaining status quo, holding rates steady at 5.00-5.25%. However, market sentiment leans towards the likelihood of another 25 bps to 5.25-5.50% in July, with over 60% chance.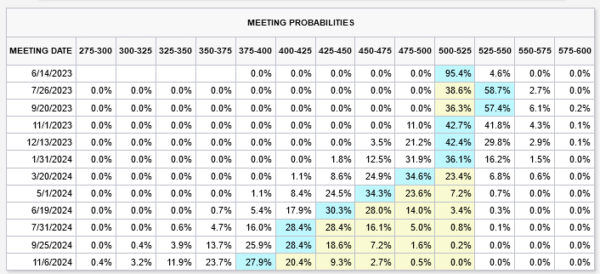 Yet, these market expectations are not set in stone and could see adjustments based on Fed's new economic projections. Rewinding to March, the median interest rate stood at 5.1% for 2023. A perusal of the dot plot reveals that only one policymaker anticipated no additional rate hikes from the current level. In contrast, 10 policymakers forecast one more hike, while seven projected two or more. Changes in this balance could provide insights on whether the interest rate will peak at 5.25-5.50%, as currently predicted by the market.
Furthermore, median interest rate is expected to decline to 4.3% in 2024 and then to 3.1% in 2025. Any deviations from these projections could hint at the duration for which the interest rate will remain at its peak and potentially even suggest a timeline for the initial rate cut.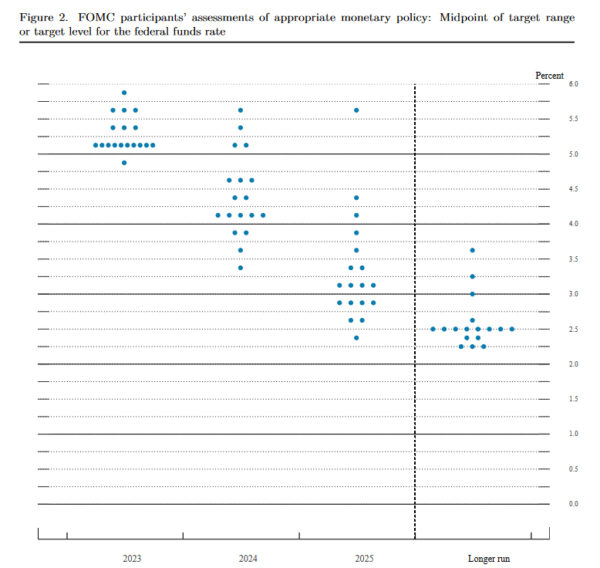 Some readings on Fed: