Latest forecasts from New Zealand Institute of Economic Research anticipate a period of subdued economic growth over the next few years. The annual average GDP growth is expected to decline to 0.4% in the fiscal year ending March 2024, followed by modest growth of 1.1% in 2025.
This sluggish pace is partly attributable to the ripple effect of consecutive hikes in RBNZ's OCR, currently standing at 5.50%, which have started to curb demand in the broader economy. Moreover, diminishing demand for exports, spurred mainly by China's weaker growth outlook, poses downside risk to the nation's economic vitality.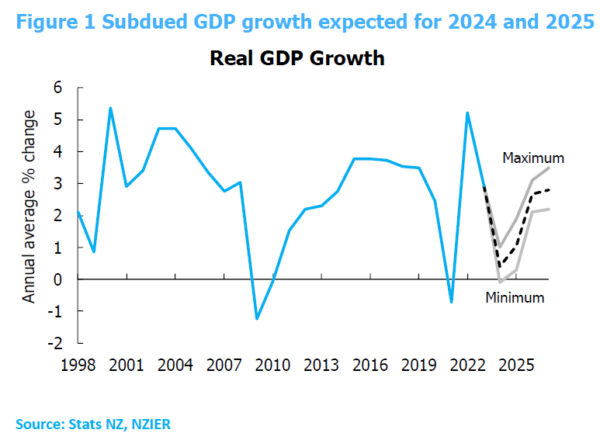 Shifting focus to inflation sphere, there has been a notable upward revision for the projections as of March 2024, with annual CPI inflation predicted to retreat to 4.3% in 2024, and further dip to 2.4% in the subsequent year.
As for currency outlook, NZD Trade Weighted Index forecasts have undergone revisions, showing a downturn for the approaching year but portraying an uplift in 2025.
NZD has not encountered significant fluctuations against other currencies in recent times in terms of yield attractiveness. This steadiness, however, is anticipated to meet challenges due to reduced export demand from China.
The forecast encapsulates expectation of NZD TWI oscillating between 70.8 and 71.6 in the period spanning 2024 to 2027.