USD trades broadly lower today. And some attributes the weakness to Trump's tweet on Russia and China devaluation.
Russia and China are playing the Currency Devaluation game as the U.S. keeps raising interest rates. Not acceptable!

— Donald J. Trump (@realDonaldTrump) April 16, 2018
Originally, we prefer not to cover some random morning comments like that. But it's getting a bit annoying to see reports on this flying around, making it a big news.
It's not, at least for now.
Just take a look at the D heatmap. Yes USD is in red against all others. But it's only in deep red against EUR and GBP. Meaning that it's staying in Friday's range except versus EUR and GBP.
And take a look at this, EUR/USD. It can't find enough buying through 1.2396 resistance yet.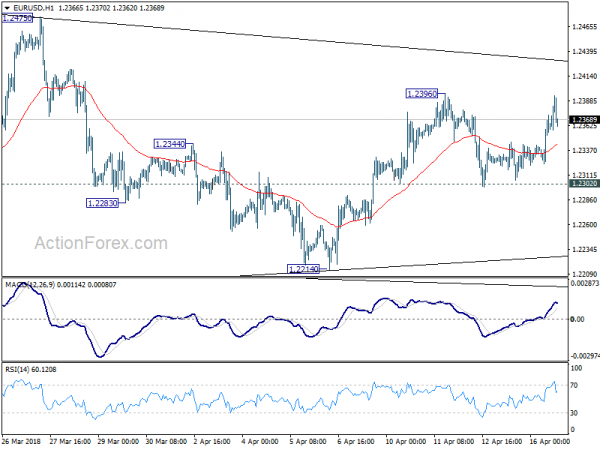 How about USD/JPY? It's well above 106.64 support and even holding above a near term trend line.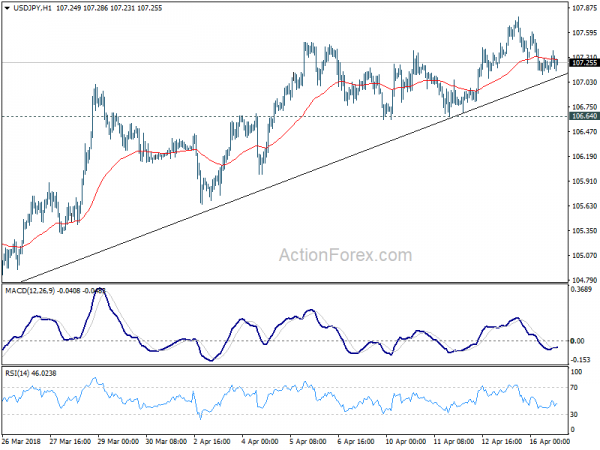 So, USD weak? Yes. But not that weak to make it an everywhere headline. Looking at the above D heatmap, it's GBP's strength that's worth a mention. Even if USD dives further during the rest of the session, it's likely because of some other reason.
And some people said that Trump needs to stay away from his tweets. We'll say it's the media and people who need to stay away from these random nonsense.