Swiss franc's depreciation against Euro over the past few months has offered some reliefs to policymakers. At the quarterly SNB meeting in September, the members acknowledged the franc is not as overvalued as before. Yet, weak economic and inflation have led the members to remain cautious and maintain the monetary policy unchanged. SNB this month decided to keep the sight deposit rate unchanged at -0.75%, while the target range for the three-month Libor stayed at – –1.25% and –0.25%. The central bank also reiterated the pledge that it would intervene in the foreign exchange market if needed. But, SNB's sight deposit and FX reserve data indicate that less intervention has been adopted recently.
In the accompanying statement, the SNB noted that, during the intermeeting period, Swiss franc 'has weakened against the euro and appreciated against the dollar'. Overall, it 'is helping to reduce, to some extent, the significant overvaluation of the currency'. However, the members stressed the franc 'remains highly valued, and the situation on the foreign exchange market is still fragile'. The SNB reaffirmed the willingness to intervene in the FX market if need, so as to 'reduce the attractiveness of Swiss franc investments and thus ease pressure on the currency'. Since the previous meeting on July, EURCHF has risen +5.8% with the upward momentum accelerated since mid-July. Policy divergence was the key reason for the rally, as the market has raised hopes for the ECB to taper its asset purchase pogrom, while the SNB is determined to keep its policy accommodative.
Inflation and GDP Growth
Inflation has remained subdued. Yet, the SNB lifted its forecast slightly amidst recent depreciation in franc. The central bank expects inflation to reach +0.4% this year and in 2018, up from +0.3% projected in June. Inflation would then accelerate to +1.1% in 2019, up from June's projection of +1%. GDP expanded +0.3% q/q in 2Q17, missing consensus of +0.5%. From year ago, growth was +0.3%, markedly lower than +1.1% as expected. As such, the central bank now sees growth to be 'just under 1%, markedly lower than June's estimate of +1.5%. Leading indicator- KOF business climate index- points to gradual improvement in the growth outlook in the coming quarter.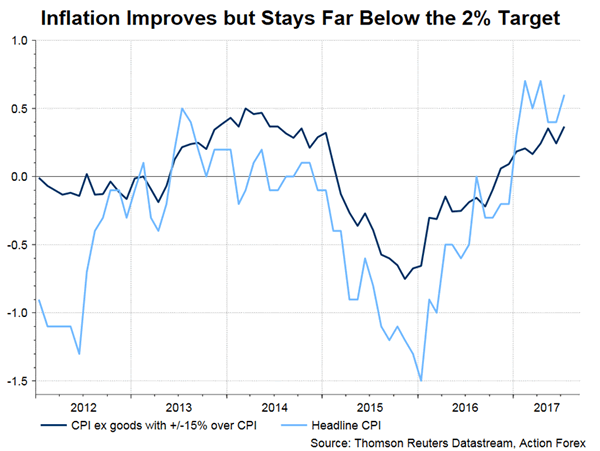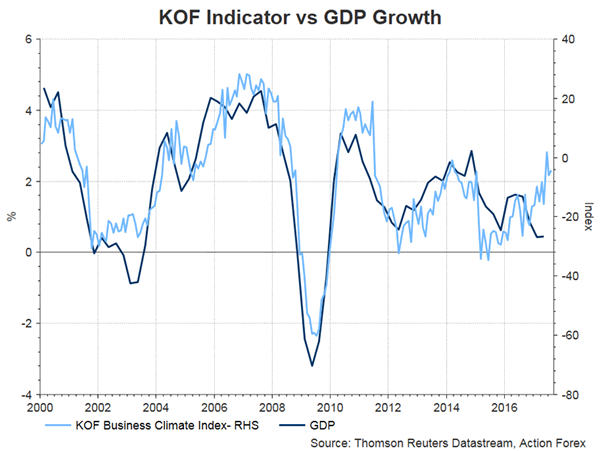 Less Intervention
FX reserves rose to 716.7B franc in August, from 714.9B franc in the prior month. The mild increase of +0.25% was mostly due to valuation effect. Meanwhile, the sight deposit has been on the fall after rising to a new high in late August.