While leaving the policy rates unchanged for another month and pledged to continue FX market intervention when needed, the SNB has turned less dovish in December. It has turned more upbeat over the economic recovery outlook and acknowledged the depreciation of Swiss franc and the euro and US dollar. the central bank revised modestly higher the inflation forecasts for this year and 2018, while leaving that for 2019 unchanged.
As widely anticipated, the SNB kept the sight deposit rate unchanged at -0.75%, while the target range for the three-month Libor stayed at between –1.25% and –0.25%. Again, the SNB reiterated that it would 'remain active in the foreign exchange market as necessary', while 'taking the overall currency situation into consideration'.
Regarding the 'currency situation', Swiss franc has continued to weaken against both the euro and the greenback during the intermeeting period. Over the past three months, EURCHF has gained +1.7% while USDCHF has been up about +2.3%. as such, SNB has revised its language on exchange rate to 'the Swiss franc has weakened further against the euro and, more recently, has also depreciated against the US dollar'. While acknowledging that the franc's overvaluation has 'continued to decrease', the central bank reaffirmed that it remained 'highly valued'. Policymakers attributed the recent weakness in the franc to diminished demand over safe haven assets, while cautioning over the 'fragile' developments. The central bank remained vigilant over franc's movement, noting that 'a renewed appreciation would still be a threat to price and economic developments'.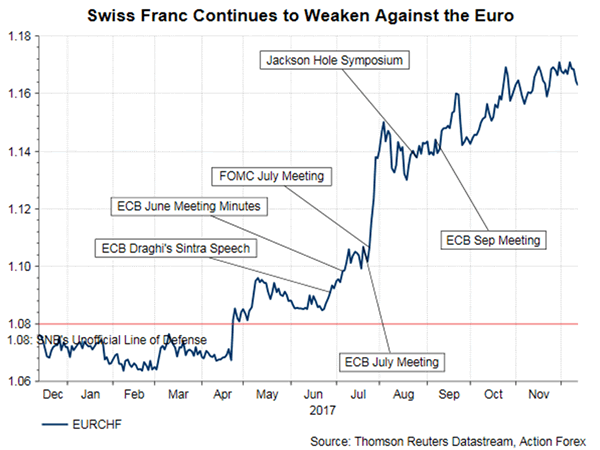 Another adjustment this month is the upward revision in the inflation forecasts. Owing to 'increased oil prices and the further weakening of the Swiss franc', the staff estimated that inflation would rise to + 0.5% this year, up from +0.4% projected in September. Inflation would then increase to +0.7% in 2018 (+0.4% previously) and then to +1.1% in 2019 (unchanged). The longer-term inflation forecast is virtually unchanged. GDP growth is expected to reach +2.5% next year.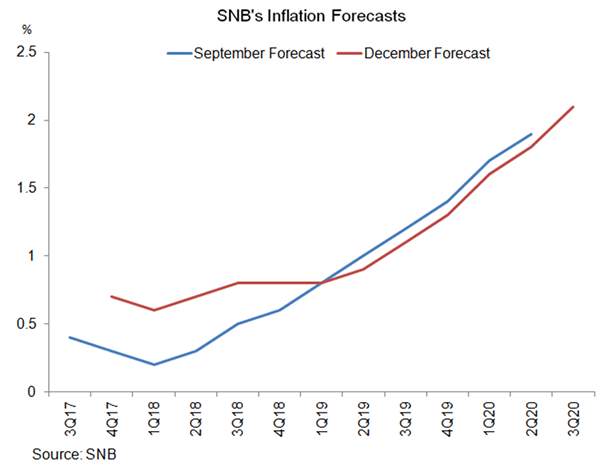 Despite SNB's cautiousness over the franc's movement, we notice that it has adopted less intervention in recent months. As we mentioned in our report last week, the decline of FX reserve to 738.17B franc in November and the fall of sight deposit in the week ended December 1 are evidence that the central bank has found it less urgent to intervene the FX market. Obviously, this has been driven by the weakness of Swiss franc. It is likely that the central bank would maintain the status quo and the same rhetoric in 2018