BoC has sent a mixed message in yesterday's statement. Although the next rate adjustment remains a hike, the timing remains data-dependent and hinged on a number of uncertainties, including NAFTA negotiations and geopolitical tensions, something critical to Canada due to its position as oil exporter. Policymakers upgraded the assessment over the global economic outlook and remained optimistic over the domestic developments. However, they revised lower the forecast of GDP growth this year. The market has priced in 34% chance of a rate hike in May. We expect the next move to come in June.
BOC left the overnight rate unchanged at 1.25% in April. Policymakers maintained a cautious tone, noting that future monetary policy change would be "guided by incoming data". On inflation, the members acknowledged recent improvement has been "consistent with an economy operating with little slack".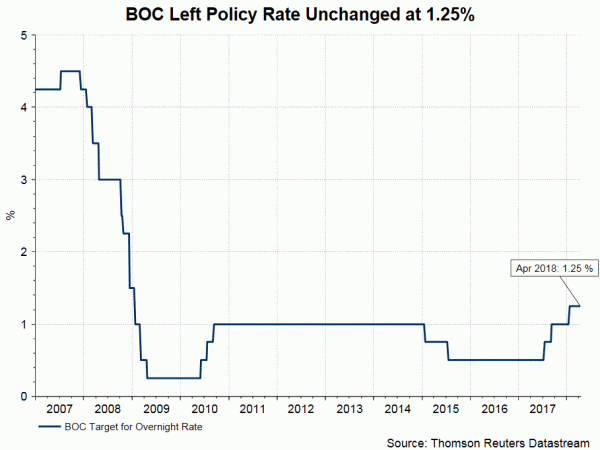 They noted that "core measures of inflation have continued to edge up and are all now close to 2%" and "wages have continued to pick up as expected, even after factoring out recent minimum wage increases in Ontario and Alberta". The wage reference appears more upbeat than the previous meeting which noted that the growth remained "lower than would be typical in an economy with no labour market slack".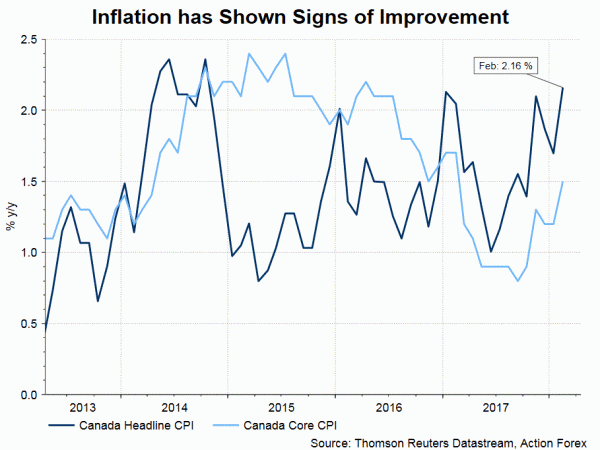 The most notable change in the accompanying statement was the concluding paragraph which suggested that some "progress has been made on the key issues being watched closely by Governing Council". Policymakers were reinforced with the view that "higher interest rates will be warranted over time". This appears more upbeat that the March statement which indicated that "the economic outlook is expected to warrant higher interest rates over time". Yet, the BOC reiterated that stance in April that "some continued monetary policy accommodation will likely be needed".
On economic forecasts, BOC revised higher global growth outlook to +3.8% for 2018 and +3.6% for 2019, up from previous forecasts of +3.6% and +3.5%, respectively. Growth is expected to ease to +3.4% in 2020. Growth in the US was revised higher to +2.7% for both this year and in 2019, from +2.6% and +2.3%, respectively. Growth is expected to ease to +2% in 2020.
In Canada, the members revised lower the growth forecast, by -0.2 percentage point, to + 2% for this year, before upgrading it by +0.5 percentage point, to 2.1%. Growth in 2020 is expected to ease to +1.8%. The member revised the CPI forecast higher to +2.3% for this year (+2% previous) and +2.1% for both 2019 (unchanged from previously) and 2020.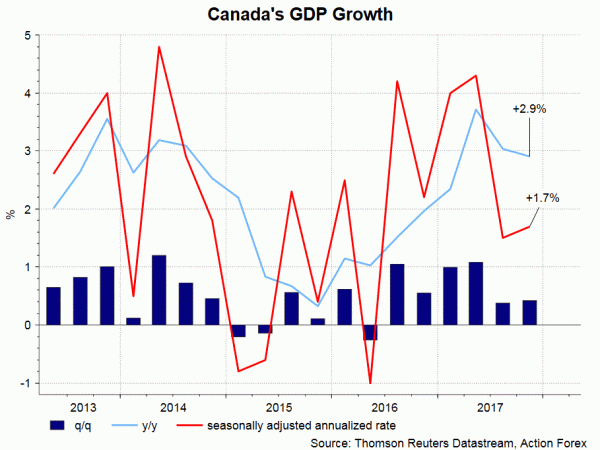 The members cautioned over "escalating geopolitical and trade conflicts risk" which could undermine global expansion. At the press conference, governor Poloz noted that, while a positive outcome on the May 30 NAFTA renegotiation would result in upward revisions in forecasts, the monetary policy decision would remain data-dependent, rather than pre-empting an expected improvement.