BOC appeared more confident over the economic growth outlook, although it maintained the policy rate unchanged at 0.5% in April. Policymakers upgraded the GDP growth forecast for this year amidst strong housing market activities in the first quarter, but revised lower the figure for 2018. It also revised mildly higher the inflation outlook, though. The central bank cautioned over the uncertainty of trade relations with the US and stressed that material slack remained in Canada. On the monetary policy, Governor Stephen Poloz described the stance as 'decidedly neutral' as the members weighed the improved economic developments against the uncertain trade policy. We expect the policy rate to stay unchanged at 0.5% for the rest of the year. The loonie strengthened around than +0.5% Wednesday as Canadian economic outlook improved. Yet, the magnitude of the gain was mainly due to USD's weakness as US President Donald Trump complained that the greenback is too strong and reiterated his preference of low interest rate policy.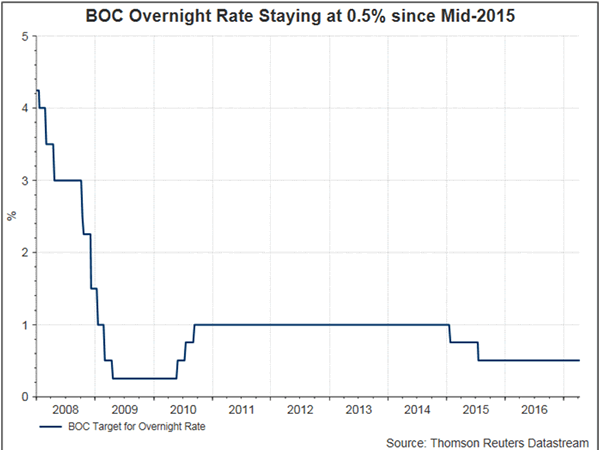 The post-meeting statement noted that global economic growth is 'strengthening and becoming more broadly-based than' the projections made in January. Domestically, incoming macroeconomic data suggested that 'economic growth has been faster than was expected in January' with growth 'temporarily boosted by a resumption of spending in the oil and gas sector and the effects of the Canada Child Benefit on consumer spending'. BOC now forecasts Canada's GDP to expand +2.6% this year, up from +2.1% in January's projection, before decelerating to +1.9% in 2018 (January: +2.1%) and +1.8% in 2019. BOE now expects the output gap to close in 1Q18. Meanwhile, BOC has revised down the 'projection of potential growth, reflecting persistently weak investment'. BOC remained cautious, suggesting that 'it is too early to conclude that the economy is on a sustainable growth path'..
Inflation has been hovering around the +2% target. BOC judged it was largely driven by 'the transitory effects of higher oil prices and carbon pricing measures in two provinces, as well as other temporary factors'. It acknowledged that its three measures of core inflation have been 'drifting down in recent quarters and wage growth remains subdued, consistent with material excess capacity in the economy'. The central bank revised the inflation forecast a tick higher to +1.9% and +2% in 2017 and 2018, respectively. Inflation would then further improve to +2.1% in 2019.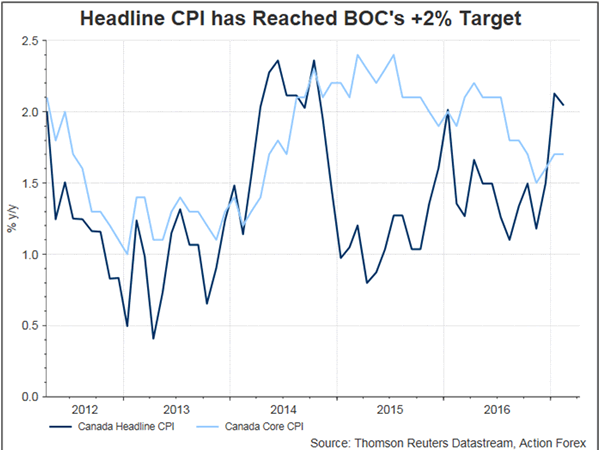 In the concluding paragraph, BOC noted that despite 'the strength of recent data, some of which is temporary, and is mindful of the significant uncertainties weighing on the outlook'. We expect the policy rte would stay unchanged at 0.5% for the remainder of the year.