China's PMIs slumped to the lowest on record in February. Both the official and Caixin's reports show that China's economic activities were severely hurt by the coronavirus outbreak. Since the number of infected cases spiraled in late January, the Chinese government has implemented measures to control the spread of coronavirus. Delay in production restarts after Lunar New Year holiday and travel bans in some provinces have disrupted economic activities. Although it is expected that activities could rebound strongly in March, with travel bans eased and more companies resumed operations, the risk is high that increased social interaction would spark massive spread of the virus again.
Caixin's PMI report for China has shocked the market. Manufacturing PMI dived to a record low of 40.3 in February. Production and new orders sub-indices, important indicators for the near-term manufacturing sector, declined to 28.6 and 34.9, from 51.9 and 52, respectively, in January. Demand from overseas weakened materially with the new export orders sub-index falling to 36.4 from 49.4 in February. This is, however, still above the record low of 28.2 in November 2008.
Released a few days ago, the official manufacturing PMI by NBS slumped to a record low of 35.7 in February. Meanwhile, the non-manufacturing PMI, covering services and construction activities dived to a record low of 29.6. Sub-indices also declined across the board, most of which were deep in the contractionary territory. For instance, the production sub- index, lowest amongst all, slumped to 27.8 in February from 51.3 a month ago. The new orders sub-index plunged to 29.3 from January's 51.4, while the new export orders sub-index declined to 28.7 from 48.7. Companies noted that they have received a lot of order cancellation and delivery delay due to the coronavirus outbreak.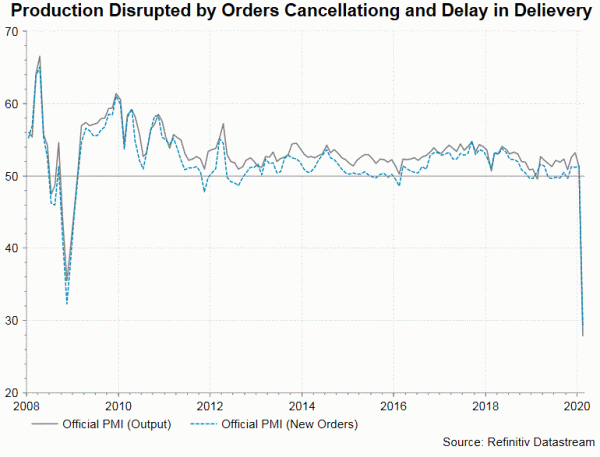 Both reports suggest deterioration in the job market. According to Caixin, the employment sub-index dipped to a record low of 41.2. NBS' employment sub-index also deepened to contraction, recording a reading of 31.8 from 47.5 in February. Delay in the resumption of factory operation after Lunar New Year and travel restriction of people from different provinces should have resulted to in the sharp drop in the number of employment last month.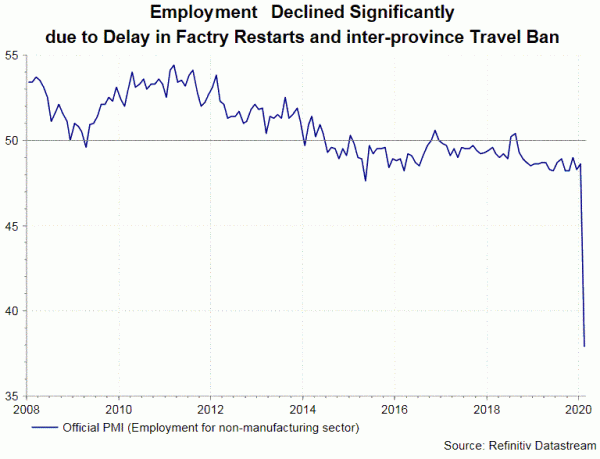 Price level also eased. Caixin's output prices index dropped -2.4 points to 48.9 in February while the input prices index slipped -1.2 points to 51.8. Government's data shows that the output prices sub-index dropped -4.7 points to 44.3, while the input cost sub-index slipped -2.4 points to 51.4. Both reports reveal a sharper fall in output than input prices, pointing to potential moderation in CPI for the month.
Inventory level sub-indices reveal the demand situation. Caixin's raw materials inventories sub-index fell to 42.6 from 49.3, while the finished goods inventory index rose to 49.4 from 49.1. Similarly, the sub-index for raw material inventories plunged to 33.9 from 47.1. This could imply the producers kept less inventory due to weakened demand. Meanwhile, the finished goods inventory sub-index climbed + 0.1 point higher to 46.1 from January's 46, also indicating weak demand.