The front-month WTI crude oil contract slumped over 3% to settle at the lowest level in 2 months. This was the driven by the risk-off sentiment amidst Turkish crisis and the surprising increase in US inventory. The report from the US Energy Information Administration (EIA) shows that total crude oil and petroleum products stocks soared +17.44 mmb to 1227.31 mmb in the week ended August 11. Crude oil inventory jumped +6.81 mmb (consensus: -2.5 mmb) to 414.19 mmb. Inventories increased in ALL 5 PADDs. Cushing stock added +1.64 mmb to 22.45 mmb. Utilization rate gained +1.55% to 98.1%. Meanwhile, crude production added +0.93% to 10.9M bpd for the week.
Concerning refined oil product inventories, gasoline inventory slipped -0.32 mmb to 233.13 mmb as demand increased +1.78% to 9.51M bpd. The market had anticipated a -0.58 mmb decrease in stockpile. Production gained +3.24% to 10.23M bpd while imports declined -29.09% to 0.66M bpd during the week.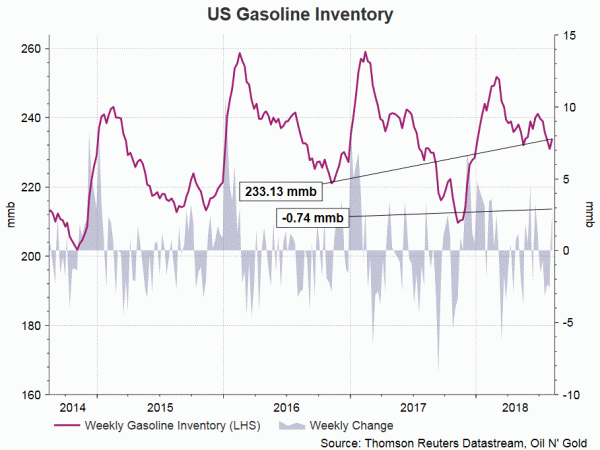 Distillate inventory rose +3.57 mmb to 128.99 mmb as demand decreased -1.07% to 3.96M bpd. The market had anticipated a +0.96 mmb gain in inventory. Production added +1.91% to 5.34M bpd while imports gained +2.96% to 0.17M bpd during the week.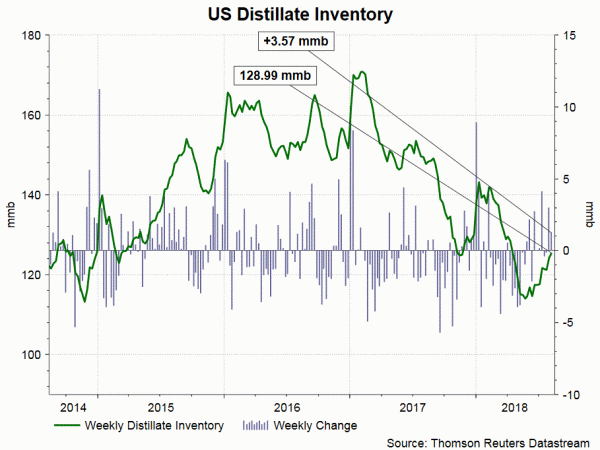 Released after market close on Wednesday, the industry- sponsored API estimated that crude oil inventory rose +3.66 mmb during the week. For refined oil products, gasoline stockpile dropped -1.56 mmb while distillate was up +1.94 mmb.