Crude oil prices extended recent rally, as US inventory dropped more than expected and the International Energy Agency (IEA) forecast oil market to tighten towards year end. The front-month WTI crude oil contract gained +1.43% while the Brent contract rose +1.57%. Both benchmarks rebounded, by +4.26% and 5.56% respectively, in the prior week, recovering after selloff in the first three weeks in August.
The report from the US Energy Information Administration (EIA) shows that total crude oil and petroleum products stocks fell -1.71 mmb to 1223.06 mmb in the week ended August 25. Crude oil inventory declined -2.57 mmb (consensus: -0.69 mmb) to 405.79 mmb. Inventories decreased -2.84 mmb in PADD I and -1.06 mmb in PADD V. Cushing stock added +0.06 mmb to 24.28 mmb. Utilization rate slipped -1.8% to 96.3%. Meanwhile, crude production steadied at 11M bpd for the week.
Concerning refined oil product inventories, gasoline inventory dropped -1.55 mmb to 232.77 mmb as demand jumped +4.72% to 9.9M bpd. The market had anticipated a +0.37 mmb decrease in stockpile. Production gained +0.85% to 10.24M bpd while imports soared +6.24% to 0.87M bpd during the week. Distillate inventory slid -0.84 mmb to 130 mmb as demand jumped +9.15% to 4.44M bpd. The market had anticipated a +1.59 mmb gain in inventory. Production declined -4.55% to 5.18M bpd while imports rose +88.97% to 0.27M bpd during the week.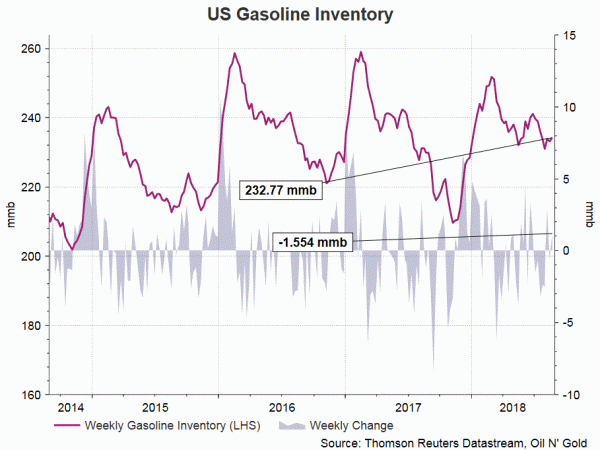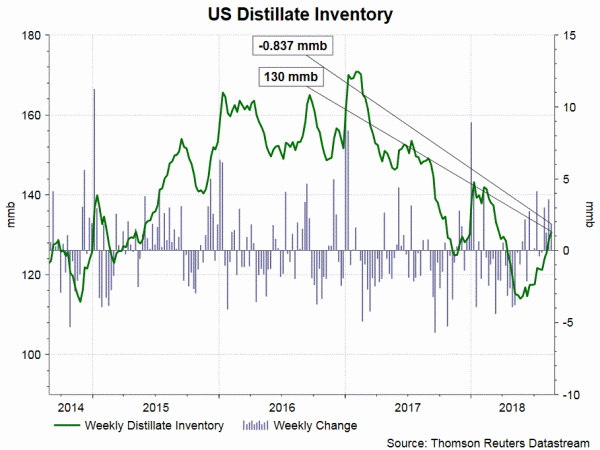 Released after market close on Wednesday, the industry- sponsored API estimated that crude oil inventory rose +0.04 mmb during the week. For refined oil products, gasoline stockpile added +0.02 mmb while distillate was up +0.98 mmb.
Separately, the IEA's head Fatih Birol noted that oil markets might tighten towards the end of this year, as major oil importing countries, such as India would raise imports. The agency forecast that oil demand growth will remain very strong. This is accompanied with the "fragility of production" in some countries including Venezuela and others in the Middle East.