Having fallen over -20% from April's peak, oil price has uncomfortably entered a bear market. Intensification of US- China trade war, slowdown in economic growth in major economies, Brexit uncertainty and other geopolitical factors have heightened concerns about the global oil demand.  Stock- builds in the US only adds to the weakness in oil price. The report from the US Energy Information Administration (EIA) shows that total crude oil and petroleum products (ex. SPR) stocks jumped sharply, by +22.44 mmb to 1307.93 mmb in the week ended May 31. Crude oil inventory jumped +6.78  mmb to 483.26 mmb (consensus: -0.85 mmb). Inventories rose in 4 out of 5 PADDs. Stockpile in PADD3 (Gulf Coast) alone gained +3.47 mmb during the week. Utilization rate climbed +0.6% to 91.8% while crude production added +0.1M bpd to 12.4M bpd for the week. Crude oil imports added +1.07M bpd to 7.93M bpd in the week.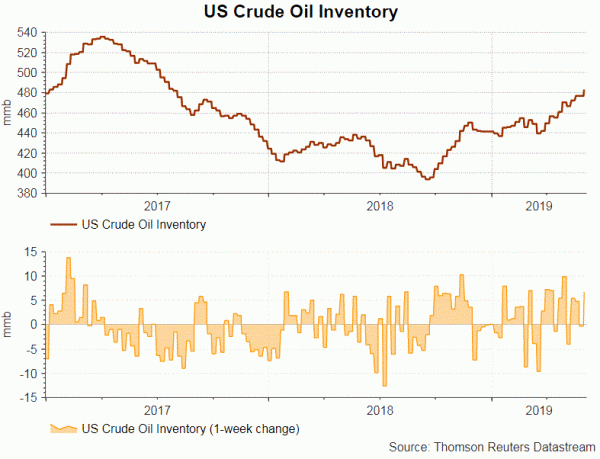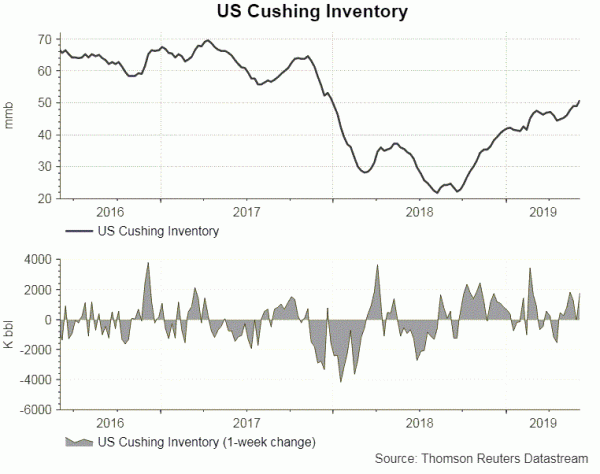 Concerning refined oil product inventories, gasoline inventory gained +3.21 mmb to 234.15 mmb although demand increased +0.5% to 9.44M bpd. The market had anticipated a +0.63 mmb increase in stockpile. Production rose +1.89% to 10.05 bpd while imports added +0.74% to 1.1M bpd during the week. Distillate inventory rose +4.57 mmb, to 129.37 mmb. Demand declined -20.9% to 3.39M bpd. The market had anticipated a +0.5 mmb gain in inventory. Production slumped -36.72% to 0.11M bpd while imports gained +4.28% to 5.4M bpd during the week.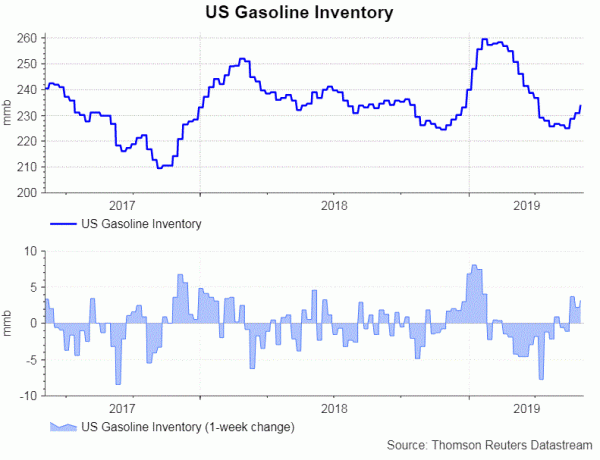 Released after market close on Thursday, the industry- sponsored API estimated that crude oil inventory rose +3.55 mmb during the week. For refined oil products, gasoline stockpile added +2.70 mmb while distillate jumped +6.31 mmb.