Crude oil prices have declined for 3 out of the past 4 weeks. the most recent weakness has been driven by concerns over the demand outlook as a third wave of coronavirus outbreak has hit Europe. This is also a reason for the narrowing in WTI-Brent spread although the impacts of US hurricanes have been priced in. Going forward, uncertainty about the pandemic, the progress of output increase in Libya and OPEC+ compliance will continue to affect crude oil price's movement.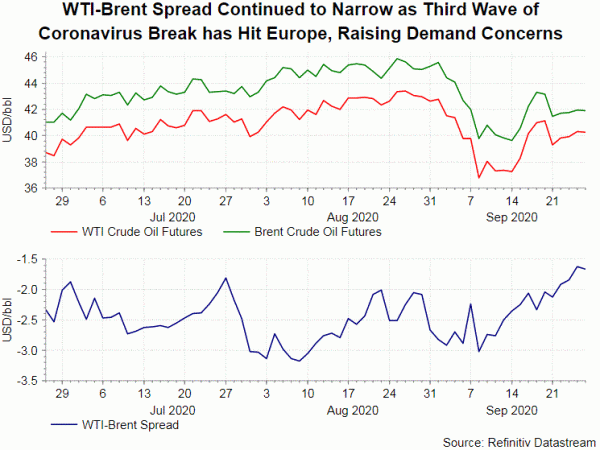 The recovery of oil demand after the severe hit by the coronavirus pandemic in March appears slower than previously anticipated. The latest report by the International Energy Agency (IEA) shows a downward revision in global oil demand by -0.1M bpd and -0.6M bpd, respectively, for 3Q20 and 4Q20. IEA noted that demand will decline -8.4M bpd this year from 2019, compared with the -8.1M bpd fall estimated in the previous report. The agency noted that the downgrades were mainly driven by "a resurgence of Covid-19 cases in many countries, local lockdown measures, continued teleworking and the weak aviation sector".
A key driver of the rally of oil price from April's trough was Chinese demand. This stimulus has stalled recently. China's crude oil imports soared to a record high of 53.2M ton in June, up +34.4% y/y. Imports have than dropped to 47.5M ton in August. Reports have suggested that most of the cheap oil imported during the period have not been consumed, but stored. With the country running out of storage, its imports would likely fall further.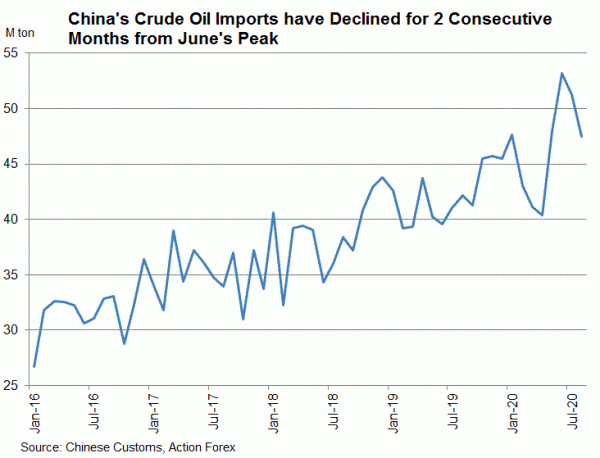 On the supply side, OPEC+ production increased to 32.92M bpd in August, up +1.71M bpd from a month ago. The alliance has trimmed output cut to -7.7M bpd since last month, compared with -9.7M bpd previously. The rise in output is accompanied with Libya's lifting of oil blockade.
Libya's National Oil Corporation announced on September 19 that it would resume exports from several fields and ports which were shut down by the Libyan National Army (LNA) since January. As an OPEC member, Libya produced around 1.2M bpd, over 1% the world's production, before the blockade. Production since then has shrunk to around 0.1M bpd. Libya is exempted from the OPEC+ deal. The impacts of the return of crude oil output and exports from Libya would on the oil market balance hinge on the smoothness of the reopening of the facilities. It is highly uncertain as political instability in Libya should persist. Militant groups could from time to time take control of the oil infrastructure and cause disruption of production. Meanwhile, it also depends on whether OPEC+ could accommodate to the increase in Libyan output. The imbalance could be alleviated if the increase in Libyan output can be offset by voluntary output cut by some OPEC members, such as Saudi Arabia.