Renewed geopolitical tensions and decline in US inventory have lifted oil prices, sending the front-month WTI and Brent crude oil contracts to highest levels since 4Q14. The Brent crude, pressing the US$ 80/bbl-level, is about to record its 6th consecutive weekly gain. The strength in oil prices, accompanied by greenback's failure to move decisively higher despite record-high yields, also helped the rebound of commodity currencies (AUD, NZD and CAD are under our coverage).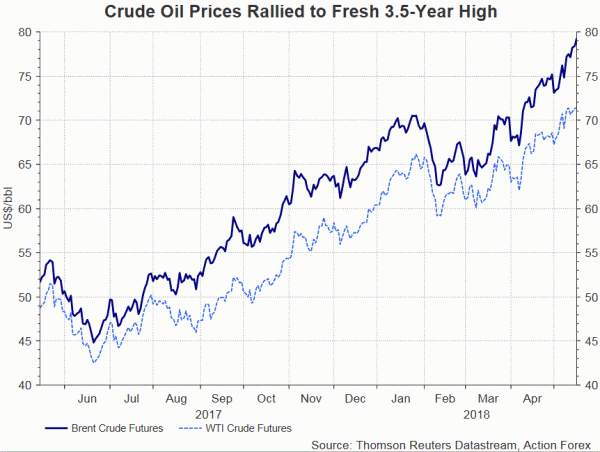 We see two geopolitical issues as the key driving forces in the near-term. First, the newly-formed Italian coalition government by 5 Star Movement and far-right League has already caused disturbance to European economy and politics. The government has planned to request the ECB to cancel 250B euro of Italian debt. Meanwhile, it would seek to renegotiate Italy's contribution to EU budget and propose new Eurozone rules that allow member states to quit. Second, uncertainty has increased of whether the US-North Korea summit would be held, after Kim Jong-un cancelled high-level talks with South Korea on Wednesday. The pariah state blames the South for holding joint military exercises with the US. In a statement released on the same day, North Korea condemned that the US has made "reckless" remarks by requesting the North to have "complete, verifiable and irreversible denuclearization" first, calling these "extremely unjust behavior".
The report from the US Energy Information Administration (EIA) shows that total crude oil and petroleum products stocks fell -0.66 mmb to 1185.52 mmb in the week ended May 11. Crude oil inventory dropped -1.4 mmb (consensus: +0.76 mmb) to 432.35 mmb, amidst increases in 2 out of 5 PADDs. PADD 1 (East Coast) and PADD 3 (Gulf Coast) saw declines of -2.36 mmb and -1.5 mmb respectively. Cushing stock added +0.05 mmb to 37.22 mmb. Utilization rate increased +0.7% to 91.1%. Meanwhile, crude production increased +0.02M bpd to 10.72M bpd for the week.
For refined oil products, gasoline inventory plunged -3.79 mmb to 232.01 mmb although demand dropped -2.5% to 9.53M bpd. This was compared with consensus of a -1.42 mmb draw. Production rose +4.89% to 10.46M bpd while imports slumped -10.21% to 0.72M bpd during the week.
Distillate inventory slipped -0.09 mmb to 114.95 mmb although demand was down -1.97% to 4.22M bpd. The market had anticipated a –2.16 apmmb draw. Production added +0.76% to 5.03M bpd while imports plunged -39.84% to 0.77M bpd during the week.
Released after market close on Tuesday, the industry- sponsored API estimated that crude oil inventory gained +4.85 mmb during the week. For refined oil products, gasoline distillate dropped -3.37 mmb while distillate slid -0.77 mmb.