We expect EURCHF to weaken modestly from current level. Elevated political uncertainty in Europe should maintain demand for Swiss franc as a safe haven, a status which accelerating buying of the franc in several occasions in 2016, including Brexit referendum and US presidential election. While FX intervention is still on, we expected SNB to be a little more tolerable to franc's appreciation than the previous years. Switzerland's economic outlook has improved over the past months with gradual recovery seen in exports and inflation. Meanwhile, strength in US dollar should also allow the franc to weather some appreciation against the euro. In our estimate, EURCHF might drop to 1.05 by end-2014, -2.8% below SNB's unofficial floor of 1.08, after the central bank's removal of the 1.2 threshold in January 2015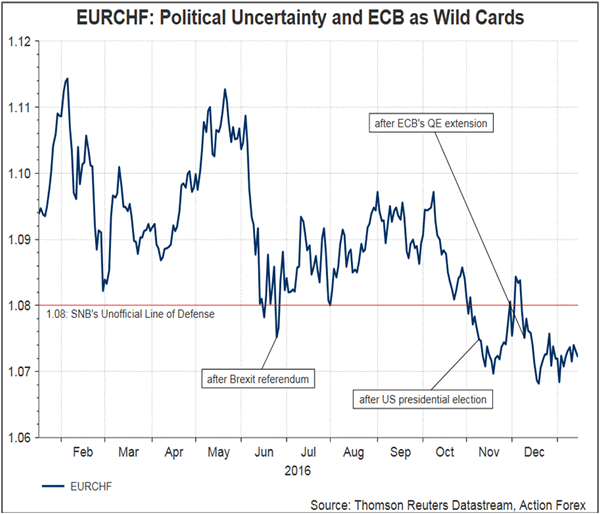 Swiss Franc's Safe Haven Demand: CHF continued to demonstrate its safe haven appeal last year during times of high uncertainties. Shocked by the Britons' decision to leave the EU, investors dumped the pound and the euro and fled their capitals to the franc, sending EURCHF to the lowest levels in 8 months. Similarly, worrying about the victory of Donald Trump, EURCHF plunged to the lowest level more a year. Price movements breached SNB's unofficial line of defense at 1.08 in both occasions. Political uncertainty has by no means diminished in 2017. On the contrary, with elections in France, Germany, the Netherlands, and possibly, Italy, the rise of populist, anti-globalization sentiment might trigger another crisis in Europe. The key focus is on the French presidential elections in May. It is likely that Marine Le Pen from the far-right Front National party would become president. She pledged to hold a 'Frexit' referendum on French membership of the EU. Safe haven demand keep EURCHF under downward pressure.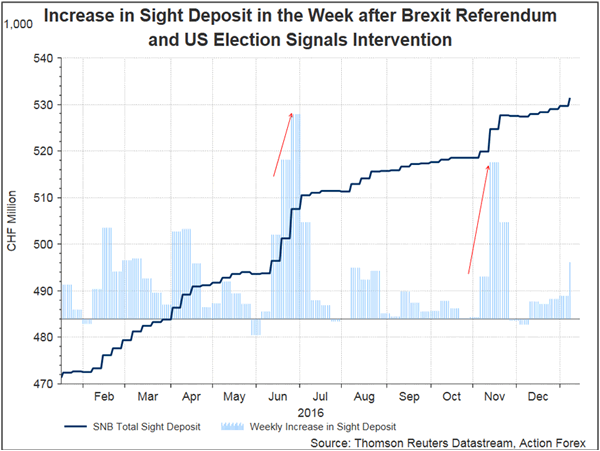 Improvement in Swiss economic outlook:
Headline CPI contracted -0.1% m/m in December, improving from November's -0.2%. From a year ago, inflation was flat, compared with a -0.3% in the prior month. SNB's downward revision of inflation outlook in December has also made it less urgent for the central bank to add stimulus. SNB now forecast inflation to stayed unchanged at –0.4% for 2016, before improving to +0.1% in 2017 (September: +0.2%) and then to +0.5% in 2018 (September: +0.6%). Meanwhile, SNB expects domestic economy to continue to expand moderately in 2017, with a 'cautiously optimistic' outlook. Although SNB would maintain the rhetoric that 'the Swiss franc is still significantly overvalued' in its meeting statements, we believe better economic outlook would allow some more CHF appreciation, offering room for SNB to intervene less aggressively.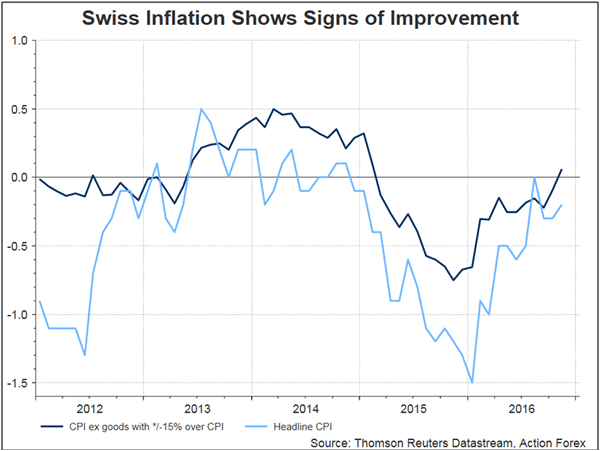 SNB's Intervention: We expect SNB to maintain sight deposit interest rate at -0.75% and the three-month Libor target between -1.25% and -0.25%. Meanwhile, it would reiterate the commitment to intervene the FX market as necessary. While we believe that SNB would continue selling Swiss franc and accumulating reserves, it would likely have more tolerance toward franc's appreciation. Indeed, over the past few weeks, SNB's intervention has been minimal although EURCHF has broken below 1.08. We see several reasons for this. Besides better economic developments that allow more flexibility and tolerance for the franc's movement, SNB has had less incentive to intervene when the driver of lower EURCHF comes from the euro. We recall in January 2015 that SNB removed the EURCHF floor of 1.2, as the selloff of the currency pair was mainly driven by euro's weakness amidst ECB's QE program. Moreover, SNB has been paying more attention to the movement of USDCHF, too. As SNB President Thomas Jordan spoke in May, 2016, he talked about the removal of floor in 2015. He mentioned that 'the economy had regained momentum, confidence in the US dollar had been restored and uncertainty had decreased considerably', 'not just the euro, but the Swiss franc, too, had been losing ground against the US dollar', and for some time now [after removal of the floor], the US dollar has been trading above the level posted on average while the minimum exchange rate was in place'. These suggested that SNB has got less unnerved about EURCHF's weakness as long as USDCHF shows strength