Sharp moderation of Hong Kong GDP growth in 2Q18 and the recent intervention by the Hong Kong Monetary Authority (HKMA) to prevent HKD from weakening below 7.85 against USD have once again revealed the challenge facing Hong Kong – a economy highly dependent on China and a monetary policy closely following the US.
While many have advocated a re-peg of HKD to renminbi (Chinese yuan), a capital market and currency that is highly controlled by the Chinese communist Party (CCP) is impractical for the re-peg. Meanwhile, Hong Kong's economic dependence on China is not an inevitable situation. It is planned by the Chinese government, and facilitated by the Hong Kong government, to sacrifice Hong Kong for China's own economic and financial liberalization.
HKMA Intervention
HKMA intervened to defend its currency Thursday as the weak-side Convertibility Undertaking (CU) of HK$7.85 to US$1 was hit. The de-facto central bank of Hong Kong sold USD for HKD of HK$ 2.16B, lowering the aggregate balance to HK$ 107.2B in August 16. The move, first since May, lifted the one-month HIBOR higher, by 12 bps, to a one-week high of 1.38%, and narrowed the LIBOR-HIBOR spread to -0.68%.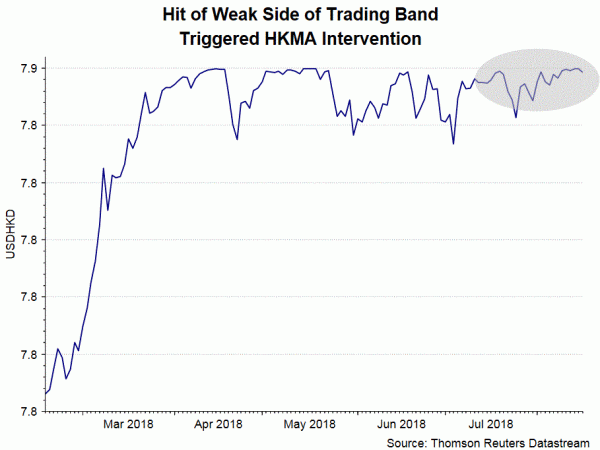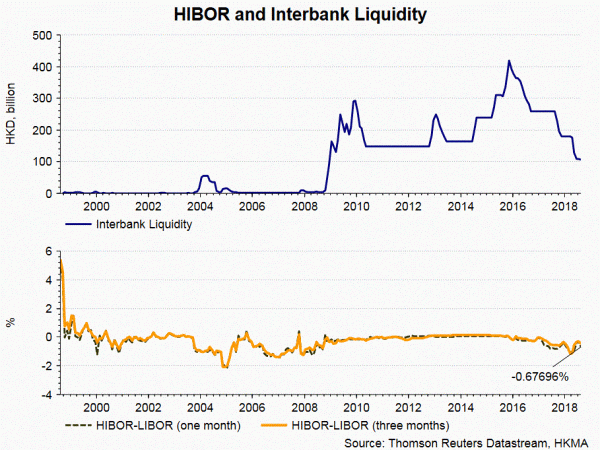 As we mentioned in previous reports, since adoption of the linked-exchange rate system of HK$ 7.8 = US$1 in the 80s, Hong Kong has given up autonomy of monetary policy and has been closely following that of the US. The Fed has raised it policy rate 7 times since December 2015. Although HKMA has hiked its base rate accordingly, the huge interbank liquidity accumulated, mainly from Mainland China, after the global financial crisis, has kept its interbank rate (HIBOR) as exceptionally low level.
Widening of HK and US interbank rates (HIBOR vs LIBOR) has resulted in capital outflow from Hong Kong which has become quite remarkable that that the weak-side CU was triggered in April and May, whereby the HKMA bought HK$ 70.35B from the market. HIBOR increased gradually as interbank liquidity dropped, limiting capital outflow and maintaining HKD within the pegged range. As the spread between HIBOR and LIBOR widened again recently, capital outflow has again triggered the weak-side CU earlier this week, causing the HKMA's intervention.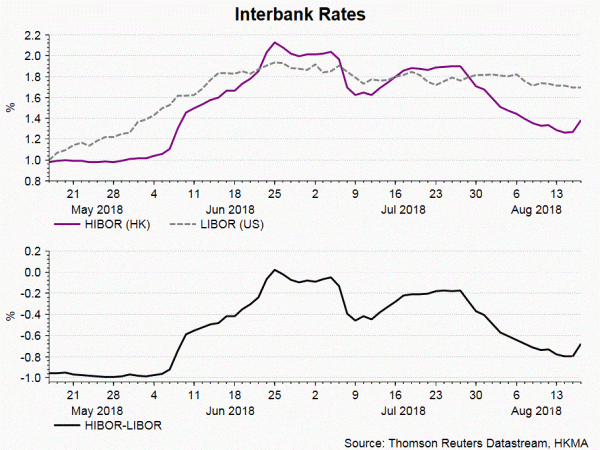 GDP Growth Slowed in 2Q18
The intervention to support HKD comes with slowdown in Hong Kong economic growth. GDP expanded +3.5% y/y in 2Q18, compared with consensus of +4.2% and +4.7% in the prior quarter. On quarterly basis, GDP contracted –0.2%, following a +2.2% growth in the first quarter. While remaining the growth driver, expansion in private consumption decelerated to +6.1% y/y in 2Q18, from +8.8% prior.
The growth outlook, clouded by US-China trade conflict, would likely deteriorate further as China takes up over 50% of Hong Kong's total trade. Besides, the financial and property market of Hong Kong is also highly leveraged in China. Recent evidence of Chinese slowdown added to worries of Hong Kong economic outlook.
Hong Kong Economy Heavily Dependent on China
Taking a closer look in Hong Kong's economic structure, the "trading and logistic" sector (imports and exports, wholesale, freight forwarding and storage, etc) contribute over 20% to GDP. Note that the about 90% of the sector involves in imports and exports, of which the major activity is re-exports to and fro China. Meanwhile about 15% of Hong Kong people are employed in the sector.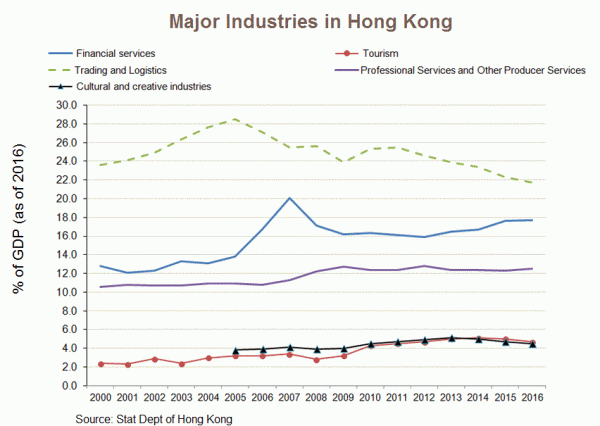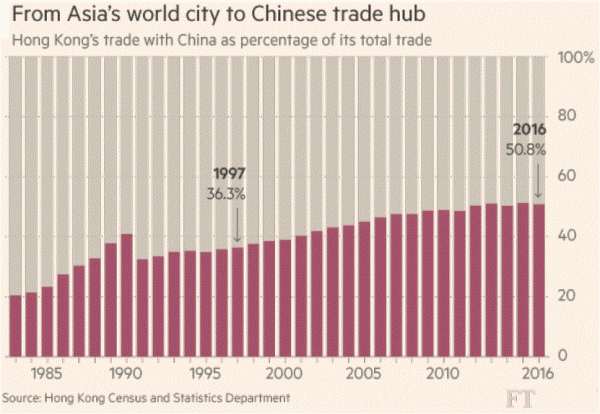 The second pillar of Hong Kong economy is the financial industry. The number of China's companies, including H-share companies, red chip companies and non-H share private enterprises, listed in Hong Kong makes up about half of the total. Hong Kong represents 61% and 58%, respectively, of China's inward and outward direct investment in 2016.
Moreover, Chinese players are assuming very important roles in Hong Kong's property and tourism sectors. Therefore, we are concerned that intensified US-China trade conflict, which would likely accelerate and deepen China's slowdown, would also hurt Hong Kong's economy.
A Change in the Linked Exchange Rate System?
The fact that Hong Kong is unable to use monetary tools to achieve economic goal can further exacerbate the situation. There has been suggestion that HKD should be pegged to renminbi instead due to its close economic relations with China. However, this idea is unjustifiable as China's capital market is still not liberalized, and its currency is not fully convertible and the exchange rate is controlled by the government.
HKMA has laid down four essential conditions for Hong Kong to consider a renminibi-linked HKD: a) a fully convertible RMB; b) open capital account with no capital controls; c) a financial market with sufficient depth and width that allows Hong Kong's Exchange Fund to hold assets to support the city's monetary base; and d) synchronized economic cycles between Hong Kong and China.
Besides the impracticality of a renminbi-linked HKD, a peg with USD has provided stability for HKD and the robust economic and financial developments of Hong Kong for decades. Rather than the currency system, the government's kowtowing to China is to blame.
Contribution of the "trading and logistic" sector to Hong Kong GDP has been falling annually since 2005. This can be explained by reduction in re-exports – as China further opened up its ports, improving infrastructure and adopting more friendly tax system for foreign trades, it is increasingly able to conduct trade with foreign counterparties, rather than going through Hong Kong.
Obviously, China is manipulating Hong Kong's international status, established during the British colonial era and underpinned by the rule of law and a clean government, to develop its own economy.
Meanwhile, tourism and related business (majority coming from Chinese tourists) contribute to 4-5% of Hong Kong GDP. This is then hailed as the one of the four pillars, and sometimes said to be the lifeblood, of Hong Kong economy.
Ironically, while the "cultural and creative" sector contributed similarly to the economy, it is often ignored by the government. Lacking motivation to innovate, the Hong Kong government is content with assimilating with the "rule of man" and corruptive culture in CCP-ruled China.
This is the ultimate reason for the downfall of Hong Kong.