Canadian Dollar surges as BoC's Business Outlook Survey painted a positive picture. In particular, business sentiments were supported by "healthy" sales prospects. Capacity and labor pressures are "evident" in most regions due to strong demand.
Here are highlights of the survey:
Forward-looking sales indicators remain positive across most regions and sectors. Some firms expect a moderation in sales activity from high levels in the past year or a gradual slowing of the pace of the recovery in the energy sector.
While firms' expectations for US economic growth have strengthened further, some cited rising protectionism and reduced competitiveness as factors limiting the impact on their sales.
Although less so than in recent surveys, intentions to increase investment continue to be widespread. Employment intentions are solidly positive, based on firms' plans for hiring to support expected sales growth or to expand operations.
Indicators of capacity pressures and labour shortages edged down but are still close to recent high levels. Remaining economic slack appears to be mostly concentrated in the energy-producing regions.
Despite expectations for faster input price growth overall, on balance, firms continue to anticipate only modest acceleration in the growth of their output prices due to competitive pressures. Partly driven by rising labour costs, inflation expectations picked up but are still well within the Bank's inflation-control range of 1 to 3 per cent.
While credit conditions were unchanged for most firms, the indicator points to a slight tightening.
The Business Outlook Survey indicator continues to be high, signalling positive business sentiment.
CAD is now the second strongest for the day while JPY remains the weakest one.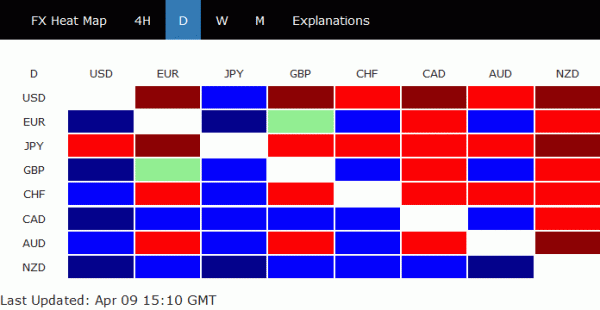 H action bias in CADJPY turned positive again.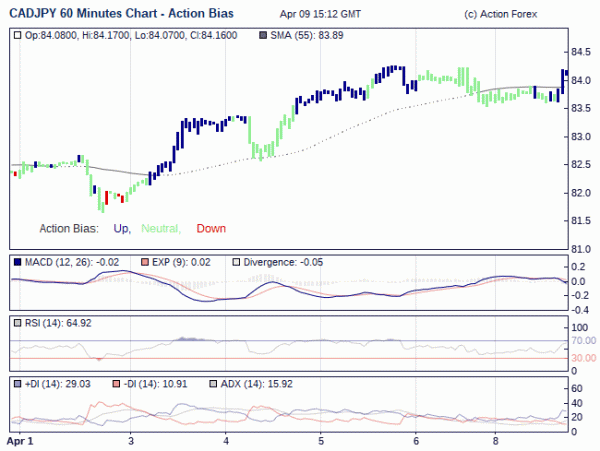 CADJPY's retreat was contained above 83.36 support, maintaining near term bullishness. The rebound from 80.52 is likely ready to resume for 38.2% retracement of 91.56 to 80.52 at 84.73.