Germany PMI manufacturing dropped to 56.8 in May, down from 58.1, missed expectation of 57.9. That's the lowest in 15 months.
PMI services dropped to 52.1, down from 53.0, missed expectation of 53.1. That's a 20-month low.
PMI composite dropped to 53.1, down from 54.6, hitting 20-month low.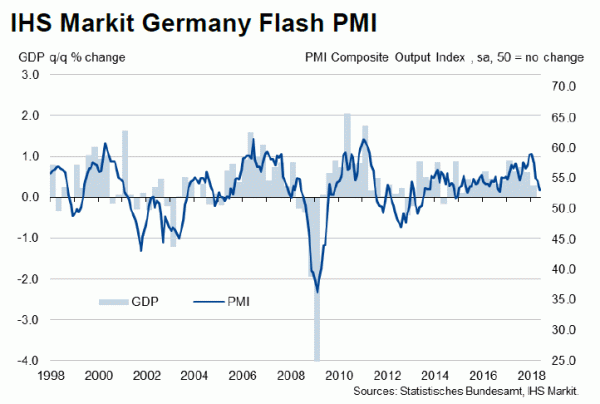 Comment from Phil Smith, Principal Economist at IHS Markit:
"The flash PMI data indicate that the recent slowdown in Germany's private sector continued into May. Business activity showed the weakest rise for over a year-and-a-half, and it was a case of slower growth across both the manufacturing and services segments of the economy.
"There was some anecdotal evidence suggesting that the timing of public holidays during the month had led to workers taking days off to bridge the holidays and weekends. However, weaker order book growth and a further waning of business confidence point to the economy carrying a lot less underlying momentum than at the end of 2017.
"Latest data meanwhile indicated an ill-timed resurgence in cost pressures faced by businesses, linked largely to rising oil prices. The recent cooling of demand has meant increased pressure on margins, with selling price inflation moving in the opposite direction to that of input costs."