The Nikkei bucks the trend Australian and China indices wilt.
Another game of two halves in Asia today albeit in still subdued post-Easter trading. Treasury Secretary Mnuchin's strong dollar comments overnight saw U.S. equities rally along with the greenback. A perceived lightning in regional tensions in Asia should have been the green light for a sea of green today, but only Japan and South Korea's Kospi, in particular, managed to benefit from the good news.
As we roll into a returning Europe, the signals don't look so rosy. Europe continues to be weighed down by French election anxiety and the U.K Prime Minister, Theresa May, has announced she will make a statement outside Number 10 at 1015 GMT this morning. There is no visibility on what it will be about, but the FTSE doesn't like it, down 1 % to February lows in early trading.
Nikkei 225
The Japan 225 had a good day as a stronger USD/JPY, and lower regional tensions boosted exporter stocks on the Nikkei. It has given part of this back late in the afternoon as Europe opens in the red.
Support lies at 18,280, the year's lows with the 200-day moving average behind that at 18,020.
Resistance rests at 18,6250 and then 18,955.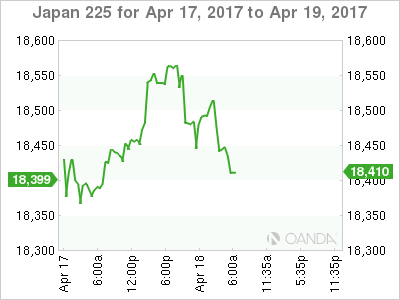 ASX 200
The Australia market returned to work today, but there was no Easter cheer as the index proceeded directly South. The RBA minutes highlighted worries about an overheated housing market and a weak labour market. Iron ore and rebar futures fell again in China marking a miserable week for commodities. Unsurprisingly, resource companies and banks were the hardest hit in Australia today.
The ASX is testing support at 5825 with a break opening up a move to the 5675/5700 region on the charts. This marks the March lows and the 100-day moving average.
Resistance lies at 5890 and then the month's highs at 5950.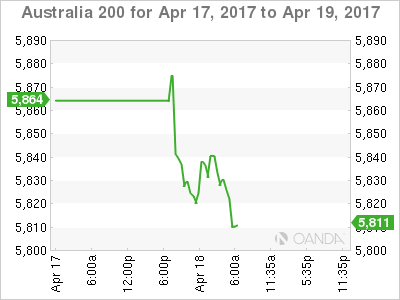 HONG KONG
The Hang Seng also returned to work today, but again sentiment locally overrode, and geopolitical feel good factor, falling over 1.4%. Although yesterday's China data was good, the feeling persists in the local market that yesterday may be the best of it for a while and that growth will slow over the remainder of the year as Government stimulus runs its course.
Worries also persist around property cooling measures on the mainland and PBOC tightening going forward. Transport and property companies fell today.
The Hang Seng finishes on its lows in an ominous technical picture. Support is here at 23,820 initially with a break implying a move to the 23,400 area.
Resistance is well defined on the daily charts at 24470 followed by the years high at 24,580.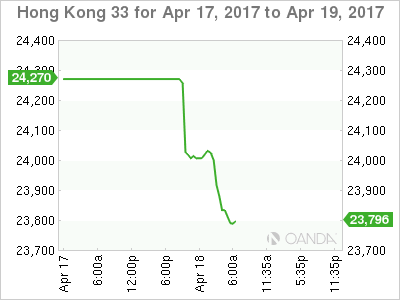 FRANCE 40
France has also been 'an vacance,' and its return has not been pretty, down 1.1 % in early trade. Saturday's first round voting gets murkier the closer it gets. Investors are saying 'zut alor' and running for the door. With four candidates from all extremes of the political spectrum running neck and neck now, the old adage that France changes by revolution, not evolution, has gained more poignancy.
The CAC-40 is testing trendline support as I write at 5000. This line goes all the way back to December last year. The next support being 4930, the March lows.
Resistance intra-day sits at 5100 and then the year's highs at 5150.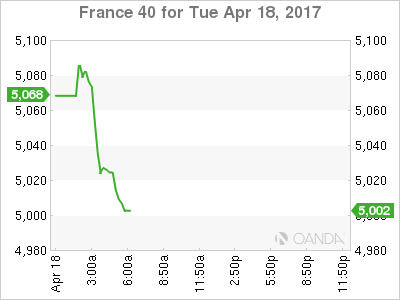 UK 100
The FTSE 100 is down 1% in early trading along with a sell-off in GBP/USD which has fallen from 1.2600 to 1.2535. PM May is due to make an unexpected statement on the steps of Downing Street at 1015 GMT. There is no official word about what it is about, but the rumour mill is suggesting SHE MAY CALL A SNAP ELECTION. Machiavelli couldn't have written this. Traders should stay tuned to their news feeds for developments.
The FTSE is testing support at 7250 as I write with the next support at 7195. This is the February low and the 100-day moving average.
Resistance above sits at 7350 and 7410.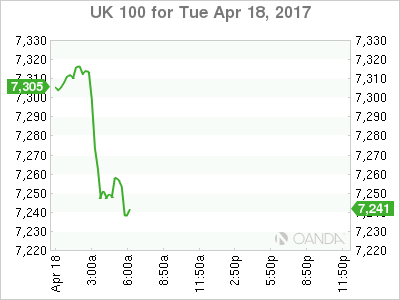 GBP/USD
Not an index but worth a mention in dispatches as the situation develops. GBP/USD has sold off 70 points from 1.2600 to around 1.2530 on speculation about the May announcement.
GBP/USD has support at 1.2500 and then 1.2430 the 100-day moving average. Resistance lies at 1.2610 the overnight high and the 200-day moving average. Technicals may not mean a lot if an election is indeed announced.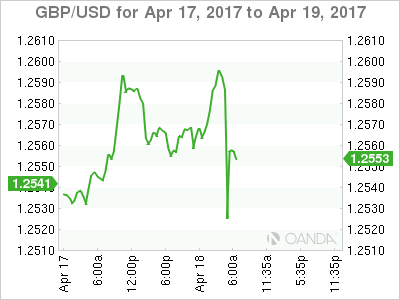 Summary
There are a lot of moving parts this morning as Europe (and Britain) return from Easter holidays. The UK announcement at 1015 GMT could be particularly significant with stocks and currencies moving on headlines rather than data this morning.