We expect the Fed to maintain the target range at 1.75-2.00% at the upcoming meeting on Wednesday.
It is one of the small meetings without updated projections or any press conference. The only piece of information we will get is the statement, but it does not change much from meeting to meeting.
At the June meeting, the Fed decided to remove several soft sentences from the statement, as it wants more flexibility now the Fed funds rate is close to neutral. We do not believe the Fed wants to change this at this point. Hence, it is unlikely to send any new policy signals. This was also the case during Fed Chair Powell's hearing not long ago.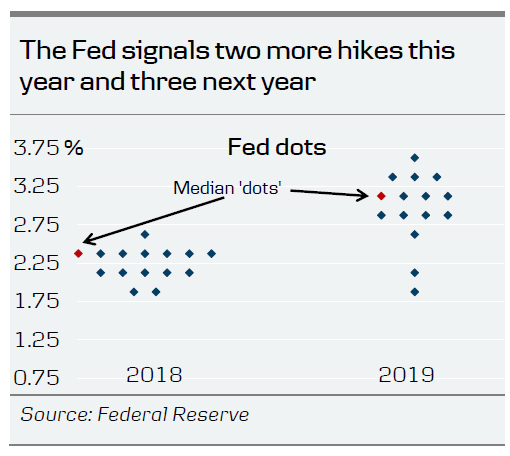 We still think the Fed is on track to deliver two more hikes this year (September and December), which is in line with the Fed's own projection (although the committee is divided between one and two hikes) and market pricing.
The biggest discrepancy is between the Fed's projections for the number of hikes next year and market pricing, also in light of the flat US yield curve, which is regarded as a reliable recession indicator. The Fed does not expect the yield curve to invert and is likely to continue hiking if it is right. However, the majority of FOMC members have indicated they are ready to pause the hiking cycle if the yield curve (against their expectations) is about to invert. The minutes, due out in a couple of weeks, may shed more light on how the Fed interprets the recent development.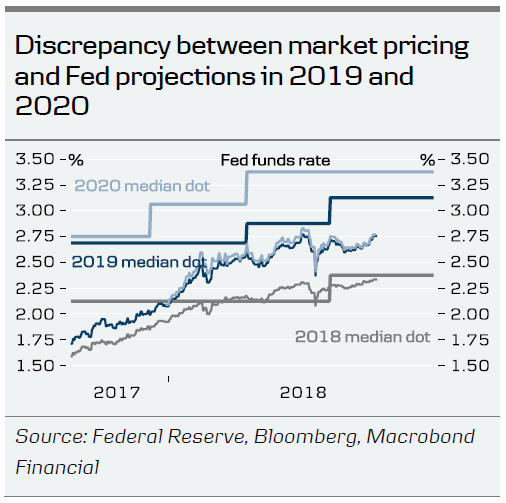 The Fed's 'quantitative tightening' (QT) programme is still open-ended and we do not know how low the Fed wants the balance sheet to go. In our base case, where the economy holds up and does not fall into recession in the next couple of years, the process is likely to continue, and it seems like the bar is high for the Fed to discontinue it even if we see increased financial stress due to tighter liquidity. The Fed is unlikely to stop QT before early 2019 at the earliest but bias among members is to keep it in place for longer. The last increase in the caps is in October. We do not expect any major shifts in the communication on the balance sheet either.