This is the first edition of China Weekly Letter, which we will publish at the end of the week going forward. It aims to give a brief wrap-up on Chinese news, with focus on the three main stories of the week and a short summary of other news with links to articles for those who wish to delve deeper. It will be a maximum of two pages. Feedback is very welcome, as we want to find the best format to keep you updated on China.
Xi-Trump meeting the next big thing to watch
It seems clear that Xi and Trump will talk trade at a 'meeting plus dinner' in Buenos Aires on 1 December. There have been few new signals on the US side this week. However, Chinese Vice-President Wang Qishan (dubbed China's fire fighter) stated at the New Economic Forum in Singapore that China is ready to discuss trade with Trump, but also underlined that it would not be 'bullied and oppressed by imperialist powers' again (referring to the period China dubs the 'century of humiliation'). See SCMP.
Comment. We see a 60% likelihood of a ceasefire at the meeting (see US-China Trade – 60% chance of ceasefire at Xi-Trump meeting, 2 November 2018). Trump's hand has weakened a bit recently as US stocks have been more volatile and economic data has been a bit softer.There is also a risk, however, that Trump's loss of the majority in the House at the mid-term elections could turn his focus to an even more hawkish stance on China, as foreign policy is one of the areas where he currently holds the most power.
More signs of Chinese slowdown
The CaixinPMI service for October dropped to 50.8 in October from 53.1 in September, the lowest level in a year (Chart 1). Car sales also declined further in October, down 11.7% from October 2017. Exports for October were stronger than expected (Chart 2), but this most likely reflects a front loading of sales ahead of a possible US tariff increase on Chinese goods on 1 January. Chinese leaders signalled further stimulus at the recent Politburo meeting recently. See China Daily.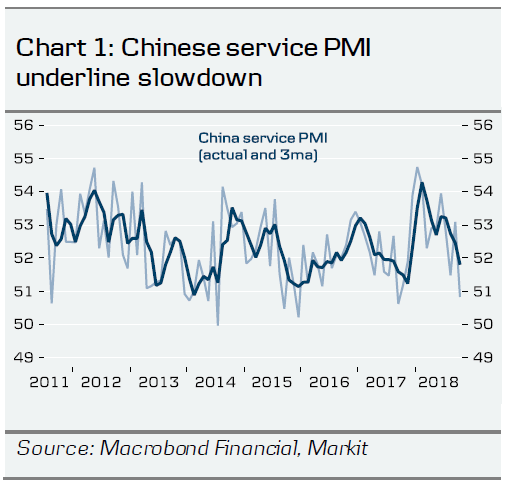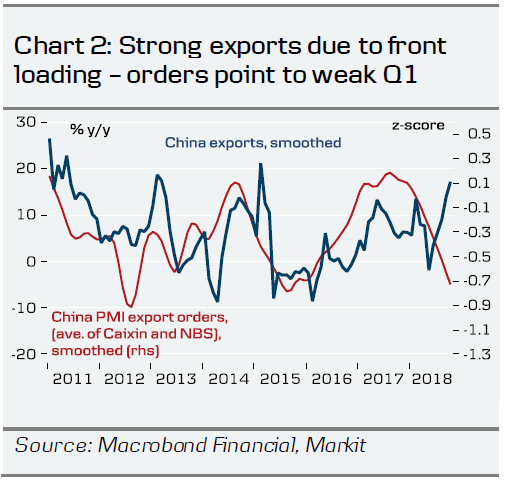 Comment. We expect Chinese growth to get worse before it gets better but for it to avoid a hard landing. See China Notes – Weak Chinese PMI points to further slowdown in Q4, 31 October 2018. There is speculation that a household tax cut of up to 1% of GDP could be brewing in 2019 as part of further stimulus.
China International Import Expo (CIIE) signals further opening
In Xi Jinping's speech at the first CIIE in Shanghai, he promised further opening and that China would import goods and services worth USD40trn over the next 15 years. See SCMP. He also lashed out at Trump saying, 'please don't always beautify your own and point fingers at others' and 'we need cooperation, not confrontation – we need win-win, not a one-sided win'.
Comment. China is eager to signal further opening, but that it will not be intimidated by what it regards as bullying by the US.
Other China news
People's Bank of China puts targets on bank lending for private companies. See SCMP. China aims to boost lending to the private sector as many companies have been squeezed by the crackdown on shadow banking and tighter lending standards due to the trade war. Premier Li Keqiang sent a clear signal on Thursday that more measures are coming to lift lending to the private sector. See China Daily.
Chinese FX reserves drop further in October as PBoC supports CNY. See Chart 3 and CNBC. We expect more of the same: a continued gradual weakening of CNY as the economy weakens and moderate intervention to stem the decline. We look for USD/CNY to reach 7.20 in 12 months.
Chinese inflation unchanged at 2.5% – PBoC free to ease (see Bloomberg).
Chinese stock markets still volatile as stocks fall back again on Friday. Are we bottoming out soon? If we are right that the Chinese economy is starting to recover gradually from Q2, we may be close to a bottom in Chinese stocks (Chart 4).
Former US Treasury Secretary Hank Paulson warns of new economic 'iron curtain' at the New Economy Forum. See Bloomberg. We believe the US and China are clearly in for a long-term rivalry. However, it will not be a new 'cold war' in the old sense, as the US and China are much more integrated than the US and Soviet Block. The rest of the world depends on both countries and are likely to play on both horses.
China's tech giant Tencent builds self-driving car team in Silicon Valley. See Reuters.
Bloomberg's report 'The Big Hack' on China meets renewed scepticism. See SCMP. The story has added further fuel to US accusations of China spying, but several companies involved (Apple and Amazon) have publicly denied the story and called for Bloomberg to withdraw it.
The US and China hold security talks. See NYT. Top security officials from the US and China are due to meet in Washington on Friday 16 November in an effort to ease tensions after a period of clashes regarding Taiwan and the South China Sea. According to the New York Times, China clearly views the talks as a scene-setter for the upcoming Xi-Trump meeting.