The markets are looking to a slow trading day today with the British and the U.S. markets closed on account of the Spring bank holiday and the Memorial Day holiday respectively.
On Friday, the upside revision to the U.S. GDP for the first quarter helped the U.S. dollar index to regain some of the lost ground. However, the greenback will need to climb back above 97.60 resistance level to ascertain further gains. The next main resistance comes in at 99.23 – 99.50.
Looking ahead, economic data is light. Mario Draghi, the president of the European central bank, is expected to speak later today, testifying to the European Parliament in Brussels. He is very likely to defend the central bank's policies and maintain the ECB's view of no scope for tightening policy in the near term.
With the euro posting strong gains over the past few weeks and looking ahead to the rate hike from the FOMC in June, the single currency could be seen easing back from the rally.
EURUSD intraday analysis
EURUSD (1.1162): EURUSD is seen posting a reversal candlestick pattern following last Friday's declines. The 1.1200 price level has proven to give way leading to short-term consolidation near the top end of the rally.
Therefore, we expect to see EURUSD looking to a pullback in the near term. However, another attempt to test 1.1200 cannot be ruled out. This week, the flash inflation estimates will be key for the EURUSD. With expectations calling for a pullback to the inflation data, there is scope for the euro to ease back as well. Look for 1.1100 as the initial support that could target, followed by a break down towards 1.0950 region.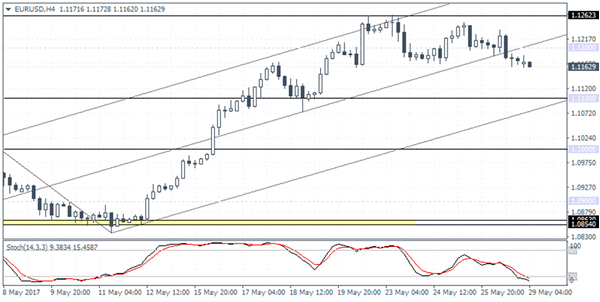 GBPUSD intraday analysis
GBPUSD (1.2829): The British pound fell sharply late on Friday as latest polls from Yougov showed the Conservative party losing some of its lead in the upcoming general elections. The markets were spooked as the possibility of a hung parliament became a reality.
As noted in our commentary, GBPUSD fell to 1.2800 support level which is likely to hold out in the near term. GBPUSD could be seen ranging between 1.3000, and there is scope for price action to remain flat for the time being. Price action could now see a near term bounce back, but further gains above 1.3000 are ruled out. This means that GBPUSD could be potentially looking to resume its declines, on a lower high that could be formed below 1.3000.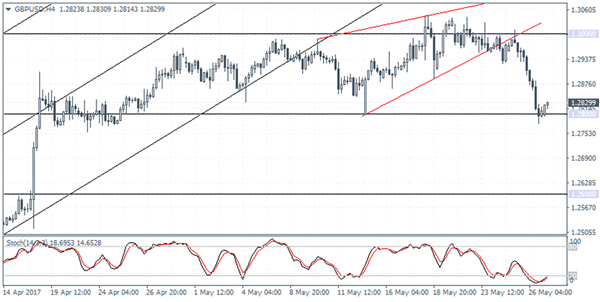 EURCAD intraday analysis
EURCAD (1.5029): Following the choppy price action from last week, EURCAD is seen to be looking to post some near declines following the breakout from the rising wedge pattern. The fact that resistance at 1.5147 – 1.5102 failed to break is also evidence of further downside in store.
Technical support at 1.4832 is the price level that could be targeted in the near term. Following last week's OPEC meeting and the decision to extend production cuts, the Canadian dollar fell along with oil prices. However, price action is likely to stabilize in the near term giving some boost to the Canadian dollar. As long as the resistance level that is mentioned is not reached, EURCAD will be targeting 1.4832