The stock market growth had stalled by the end of the week. Friday's profit-taking could save EUR and GBP from the further decline.
Stocks
The S&P 500 futures lost 0.6% from their peak levels earlier in the week. China A50 Index is losing ground throughout the week, dropping more than 5% erasing earlier April growth. As an additional warning sign, one should consider a turn to the growth of the VIX index. Also known as the fear index, this indicator increased over the week by 10% to 13.50. Growth from levels around 10 in recent years has often become the first sign of a subsequent deep correction.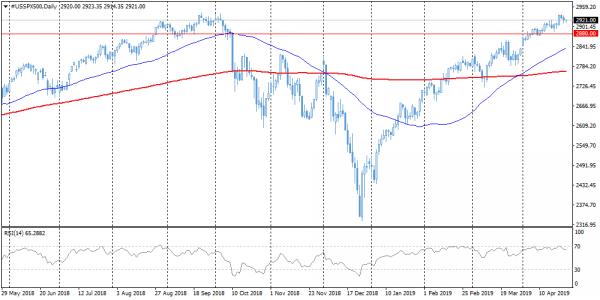 EURUSD
The pair has continued to decline on Thursday, showing intraday lows near 1.1117. These are the lowest levels since mid-2017. The target of the bears may be the lower limit of the downward channel, which is currently passing through 1.1080. At the same time, a corrective pullback of EURUSD in the form of a careful profit taking after an impressive dynamic during the week cannot be ruled out.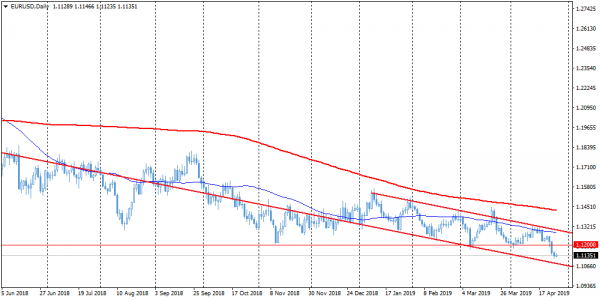 GBPUSD
The British pound received support near the 1.2900 level. The CBI strong retail sales estimates provided support for the currency. As in the case with the euro, the pound was helped by players' desire to close part of their positions on Friday before the weekend. At the same time, the medium-term technical picture remains unfavourable for the pound, which broke the uptrend and fell below the MA(200).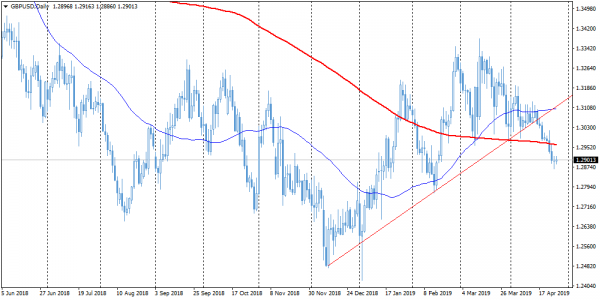 Gold
Demand for defensive assets allowed gold to show a rebound in the second half of the week from the level of support of the downward channel. In case of increasing pressure on the markets, the gold bulls may turn to 1290 levels against the current 1282. Higher growth will question the current downtrend and could potentially open the way to 1300. However, according to the technical analysis, the likelihood of further reversal seems to be more likely, with potential targets for bears around 1250, where MA(200) passes.