The British pound fell below 1.27000 on Tuesday, declining in eleven of the last 12 trading sessions. Hopes for agreement with the opposition are not yet justified, which returns to the markets the factor of uncertainty and fears of Brexit without a deal. The dollar is also growing against the Australian dollar and the Japanese yen. In general, all this pushes the dollar to the area of two-year highs, from where it declined in late April. Strengthening the dollar is often an additional reason for reducing the demand for risky assets, including stocks and currencies of emerging economies.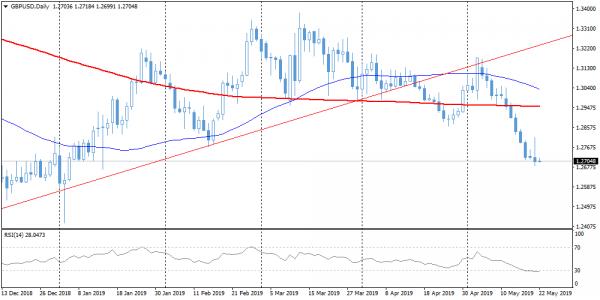 Stocks
Stock indexes grew yesterday but cannot fully recover from the drop on Monday. Key US indices grew around 0.8% on Tuesday but struggle rise further on Wednesday morning, according to futures for S&P500. It is worth noting that SPX remains under the 50-day moving average, and the strengthening of the dollar can become an additional factor of pressure on stocks. On the other hand, the four previous trading session, the debt markets show an increase in the yield of 10-year treasuries, which is a positive signal for stock buyers.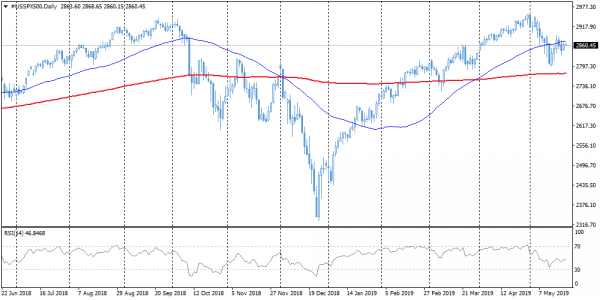 EURUSD
The single currency develops a downtrend, showing the 8th day of intraday lower lows and highs. The pressure on the euro is partly due to the decline of the British currency, and partly as a reaction to the increased demand for USD as a safe-haven currency. Europe may well be vulnerable to the Chinese economy sharp slowdown. In addition, the currency crisis continues to smoulder in Turkey. The Central Bank attempts to stop the decline of TRY require stronger measures.
Tesla
The company's stocks during trading on Monday and Tuesday declined below $200, which is the lowest level since December 2016. It is worth noting that this year the company's stocks were out of stock index rally, and increased the decline in May, dropping below the support level of the previous two years at $250. As for the technical analysis, the current decline impulse is able to send Tesla stocks to the area of $180, to the lows of 2014-2016. On the negative news background, the stock may continue its decline, moving towards $100.