There is no sign of improvement in the war of attrition between the US and China as the trade war widens in scope.
Chinese PMI data for May is mixed but we expect more weakness in the short term. There are more signs the trade war is also starting to hurt US manufacturing.
Further escalation as trade war widens in scope
Following a short break last week, we are back with more updates on Chinese developments. The trade war with the US continues to be the dominant issue. It increasingly looks like a broad economic war with measures widening in scope. Below is an overview of recent developments.
Bloomberg this week ran a story that the trade war is threatening one of the biggest deals ever between Boeing and its Chinese counterpart. It is likely the Boeing order will be made conditional on a trade deal with the US and it is unlikely to go through in a scenario of continued trade war.
US Vice-President Mike Pence is apparently scheduled to speakon US-China relations on 24 June, just four days before the Xi Jinping-Trump meeting at the G20 summit. Pence's hawkish speech in October 2018 led to the first speculation about whether we are heading for a new kind of cold war.
Comment: We see no signs that either the US or China is about to blink. Trump is signalling that he expects China to give in because it wants a deal badly and companies are leaving the country. In addition, China is continuing with its defiant tone and preparing its people for a long trade war, which could be painful. The Xi-Trump meeting at the G20 summit is crucial for whether we get a further escalation leading to an all-out trade war. We see a 50-50 probability of this. We do not expect China to give in on its 'red lines', or what it has called 'core principles'. According to SCMP, Xi discussed this with the Politburo on 13 May and they took a decision to stand firm. So, Trump has to consider whether or not he can accept this. Ultimately, we expect a deal in H2, because the market stress and economic damage are becoming too much for Trump to go into election with. However, the road from here is indeed very murky.
Both US and Chinese economies are weakening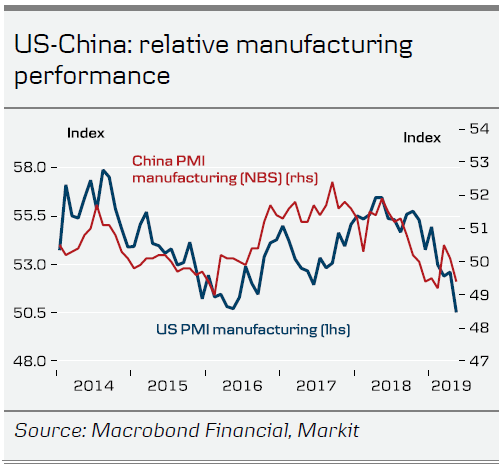 The Chinese PMI for May was mixed with the official PMI manufacturing falling sharply, while the private version from Caixin actually rose slightly. In the US, manufacturing data worsened in May (see chart on front page). China on Thursday published a plan to lift private consumption, with measures to lift purchases of green vehicles, home appliances and other products.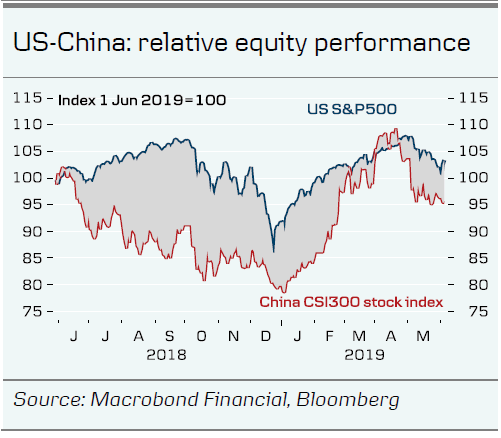 Comment: We believe the downward pressure on China will continue in the short term due to heightened uncertainty. We expect a trade deal in H2 at some point and more stimulus to pave the way for a recovery. There are signs that the trade war is also taking its toll on US companies and further escalation would be likely to cause real pain. We expect the Fed to cut rates in H2 but it would take time for any cuts to lift the economy again.
Other China news over the past week:
China and Russia strengthened their partnership on Xi Jinping's visit to Moscow.
Malaysia and Singapore urged the US and China to solve their differences and work together.
The US is pursuing a weapons sale to Taiwan, adding to tensions with China.
Huawei employees are working day and night (literally) to eliminate the company's dependence on the US.