Matching expectations and coming off a sizeable, broad based gain in April, the PPI for final demand was unchanged in May. Core PPI was soft on the month as well, but the trend over the past year has been up.
Services Holding Firm
Goods prices fully retraced April's gain, dropping 0.5 percent on the month as energy prices fell 3.0 percent and wholesale food prices declined 0.2 percent.
Accounting for about two-thirds of the overall index, services prices rose 0.3 percent on the month and 2.1 percent over the past year – the fastest annual gain since December 2014.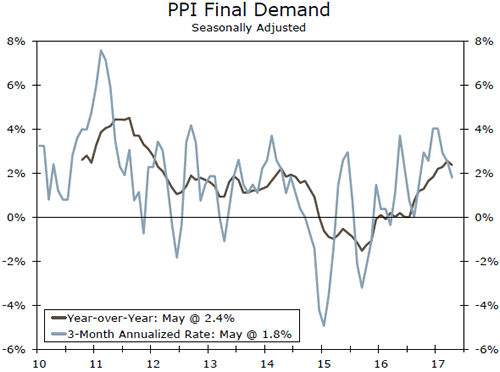 Core Wholesale Inflation Remains Gradual
Our preferred measure of core PPI (excluding energy, food and trade services) dipped 0.1 percent on the month, but remains at its fastest annual pace on record. Pipeline price pressures also showed some signs of moderation last month as processed goods edged up just 0.1 percent and unprocessed goods fell 3.0 percent.
The PPI for personal consumption remained flat, supporting expectations for a modest May consumer inflation performance.