Key Points:
Post-breakout rally running out of steam.
ABC wave could be taking place.
Technical bias remains bullish in the medium to long-term.
Following its breakout from that falling wedge, the USDCAD has absolutely been on fire and has now moved all the way back to the 1.3356 mark in only a handful of sessions. However, the pair may need to cool off in the near-term given some mounting resistance to the recent bullish phase. As a result, it's worth taking a look at some of the technicals to form a bias moving forward.
Firstly, we need to establish whether the Loonie's momentum has run dry or if we are instead going to see further gains moving ahead. Well, as shown on the daily chart below, the rally seems to be stalling somewhat as it approaches the 1.3356 level which, coincidently, happens to be the 61.8% Fibonacci retracement. Combined with a highly overbought stochastic reading, the probability of seeing a reversal to the downside is looking fairly good which could have some interesting implications for the pair.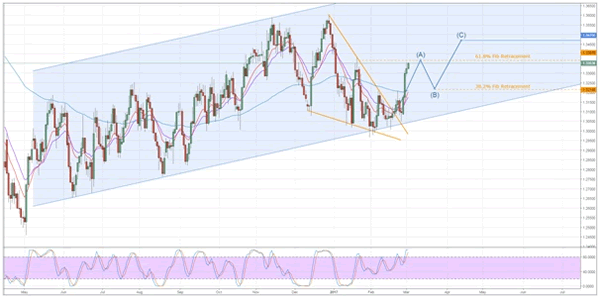 Indeed, moving into a decline could mean that we are in the early stages of a corrective wave formation. Specifically, an ABC wave could be on the horizon and this would broadly be in line with the Loonie's long-term technical bias. Of course, we will need some more confirmation before committing to this forecast and this would come as a result of seeing the near-term downtrend reach the 1.3214 mark and subsequently reversing.
At the 1.3214 level, support should kick in strongly, hence the rather early suggestion of a corrective ABC wave. This support would largely be a result of the 38.2% Fibonacci retracement and the 100 day moving average which should, at its current trajectory, provide some dynamic support around this price. All going according to plan, this will inspire a reversal to the upside and the completion of a 'C' leg that could extend all the way to the 1.3470 mark.
Ultimately, there seems to be a rather solid chance of a seeing this ABC wave take hold in the imminent future. More precisely, the combination of both strong bullish and bearish sentiment alongside the robust zones of support and resistance should result in the desired price action. Whether gains extend beyond the forecasted end of the pattern is anyone's guess but, if they do, it could mean we are faced with an Elliot wave capable of seeing the upside of the channel challenged. As a result, the Loonie could certainly be worth keeping an eye on moving ahead.