Rates: Expectations too high
Fear that central banks won't be able to live up to huge easing expectations built over Summer caused an extension of the profit taking move on core bond markets. Both the German and US 10-yr yield passed first (minor) resistance, suggesting an end to the downward trend since Q4 2018 with more sideways trading ahead.
Currencies: EUR/USD stable. USD/JPY profits from 'reflation trade'.
EUR/USD trade little changed ahead of tomorrow's ECB meeting yesterday even as US yields rose more than EMU/German ones. USD/JPY profited from higher core yields and a positive risk sentiment. Trading might develop along the same lines today. Sterling is holding strong. Is Johnson turning softer on the Irish backstop?
The Sunrise Headlines
US stocks ended more or less flat yesterday thanks to a last minute rally. The DJI (+0.28%) outperformed. Most Asian markets edge higher this morning with Japan (+1.4%) outperforming as the yen weakened.
US president Trump sacked national security advisor John Bolton over "strong disagreements with many of his suggestions". Bolton is known for his very hawkish stance vs. North Korea, Iran, Iraq, Afghanistan and others.
China is to take measures to ease the effects of the trade war, Global Times – a Communist Party owned tabloid – said. Meanwhile, the SCMP reported that China might agree to buy more US farm goods in hopes of a better trade deal.
PM Johnson reaffirmed his opposition to the Irish backstop solution and will strife for a deal that works "for the entire UK", DUP's Foster said after a meeting with Johnson, negating some recent headlines that suggested otherwise.
Israel struck Gaza in retaliation to rockets fired from the area that forced PM Netanyahu off the stage at an election rally in Israel. The rocket attack happened shortly after Netanyahu announced to annex part of the West Bank if re-elected.
The EIA has cut 2019 crude oil output forecasts from 12.27m b/day to 12.24m after which production is expected to rise to 13.23m in 2020. The energy agency also lowered price estimates to $60/b in 2019Q4 and $62/b in 2020.
Today's economic calendar will be of minor importance. The US publishes August producer price inflation and taps the 10-year bond market later today
Currencies: EUR/USD Stable. USD/JPY Profits From 'Reflation Trade'.
EUR/USD stable. USD/JPY outperforms
EUR/USD hovered again in a tight sideways range yesterday. There were few eco data in EMU and in the US. Global yields rose further with US ones outpacing German/European ones, but the yield spread had little direct impact on EUR/USD as investors are awaiting concrete news from tomorrow's ECB meeting. EUR/USD finished the day marginally lower (1.1043 vs 1.1048). USD/JPY again profited from the rise in global yields and from improved risk sentiment and closed the day at 107.54.
Overnight, sentiment on Asian equity markets remains constructive. Investors took some further comfort from headlines that the Chinese government intends to take steps to ease the impact of the trade war. Markets also still hope for further progress in the US-China trade war. The yuan is little changed (USD/CNY 7.1110 area). The euro gains a few ticks (EUR/USD 1.1050 area). USD/JPY outperforms (107.75 area).
Today, there are few EMU data. In the US, PPI is expected relatively stable. The auction of US 10-y Treasuries in interesting, too, but more important for yield/bond markets than for currencies. Markets are becoming more cautious on the amount of policy easing from the ECB at tomorrow's policy meeting. This gave EUR/USD downside protection this week. We expect more wait-and-see trading in EUR/USD today. USD/JPY might gain further if the reflation trade continues.
The USD rally halted last week. EUR/USD regained 1.10. We expect technical, cautious trading ahead of the ECB meeting. The euro might gain some further ground if the ECB doesn't deliver on high expectations or if the market feels that the bank has limited ammunition left. Technically, EUR/USD shows tentative signs of bottoming. A return north of 1.11 would call off the ST negative alert for EUR/USD.
EUR/GBP hovered up-and -down in the mid 0.89 area yesterday, but sterling held up rather well. There was less political headlines news as the UK Parliament has been suspended. Later in the session sterling regained some momentum on solid labour data. There were also rumours that Boris Johnson might soften its stance on the Irish backstop. This theme/debate might persist today. A solution won't be easy to find, but at least it suggests that Johnson is looking for a compromise. This might prevent sterling losses, at least short term.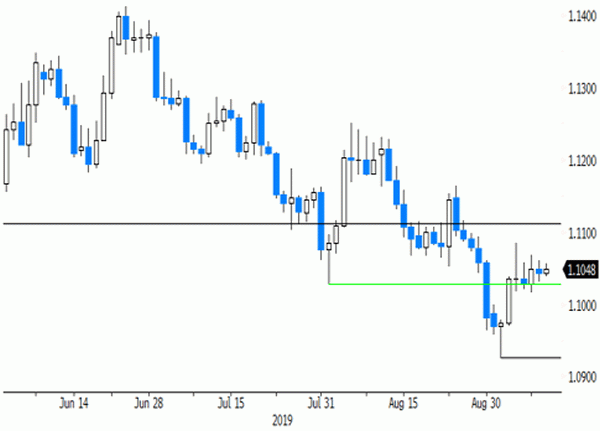 EUR/USD stabilizes in the mod 1.10 area as both US and EMU yields are trending higher