UK GDP and Manufacturing Data
As for Brexit, we are going to see its colors on the economy when the UK's GDP number will be released along with the manufacturing production numbers later today. The recent CFTC data shows that British pound asset manager institutional net total combined positions sit at -74053 and British pound leveraged funds net total combined -21957.
Clearly, market participants are extensively short on the currency and consensus among traders is for Sterling to move lower. A positive surprise in the economic numbers today and if the threat of no-deal Brexit fades away could lead to an intense short squeeze. This means the sterling-dollar pair could move to 1.26 to 1.27.
The UK's GDP data is due at 09:30 London time and the forecast is for 0% while the previous reading was 0.3%. A downtrend is expected for this number and the manufacturing numbers are expected to fall to 0.1% against the previous reading of 0.3%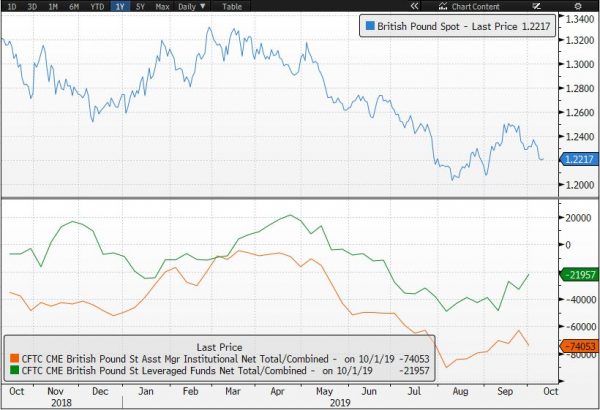 Corbyn In The Lead
Jeremy Corbyn is going to back for a general election which could take place by Nov 26th provided that Brexit deadline is extended. The early polls show a lead for him for whatever they are worth.
If we have learned anything during the past three years from these polls is that they are as unreliable as someone reading the tea leaves.