European markets are trading lower and they are likely to face thin volume today due to a public holiday over in the US. After all the Friday hype which sent the European markets soaring, especially the DAX index (it scored its best one-day percentage gains since January this year), the trade deal between the US and China has only been able to achieve a low hanging fruit. Tariffs on China will not increase, something which was on autopilot and it was supposed to kick in this week. December tariffs are still sitting on the table as untouched. This is what investors are paying attention to over in Europe.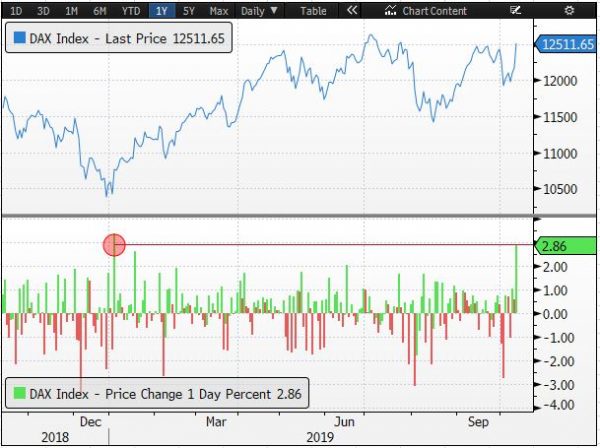 A Low Hanging Fruit
President Trump has celebrated this deal as a victory, another star on his shoulder. There is no denial in saying that what this president has achieved in terms of a deal, no other president has done that, but the reality also is at what cost this is achieved? What I want to say is that if this low hanging fruit is worth the pain the US economy has suffered? The trade war has brought the wheel of global economic growth to almost standstill.
Overall, it is safe to say that the white flag raised by Donald Trump isn't going to escalate matters between China and the US. However, as we mentioned before, it hasn't reversed any of the existing tariffs, something which market participants were hoping for.
Chanting A Brexit Deal
As for Sterling, after its meteoric rise on Friday, any further gains of this size, are somewhat limited. The Brexit clock is ticking; the UK is set to leave the EU on the 31st of this month. The view from the EU lawmakers has been pessimistic over the weekend and this has taken the wind out of Sterling's rally. Their tone has set alarms that a deal by the end of this week isn't likely. If nothing materializes, the British prime minister will be forced to apply for an extension. Traders will continue to breathe and trade every headline.
Earnings Watch
In terms of earnings, this week is of critical importance because US banks such as JP Morgan, Citi, and Goldman Sachs will be reporting.