When is it?
The widely anticipated and pivotal UK election is due take place on December 12, 2019, less than a month away. The election is considered a Brexit proxy vote of sorts given Brexit has become the most important issue in the mind of voters since its emergence, to the extent that most voters define their position as either Leave or Remain more so than party affiliation. Voting will take place between 7am – 10pm LT with results slowly announced through the night and the following day; likely into the afternoon if there's no clear early victory.
How does it work?
The UK voting system works on a first-past-the-post basis. This means an MP is elected in each constituency if he/she gets the greatest number of votes. The party with the greatest number of seats forms government with leader of the party made the Prime Minister. To form majority government, a party will need 326 seats as there are 650 constituencies. Anything under that and a coalition government is formed.
Who are the players?
There are two incumbent parties in UK parliament: Conservatives and Labour. Both comprise some 83% of seats in the House of Commons and will fight it out once again for UK leadership. Defection to Liberal Democrats and Change UK has seen their combined numbers edge lower in the prior two elections.
Other known parties include Liberal Democrats, Brexit Party (no seats), SNP, DUP, Sinn Fein, Plaid Cymru, Greens and Change UK. Some can only run in particular seats. Liberal Democrats (aligned to Labour) and Brexit Party (somewhat aligned to Conservatives) have strengthened their profiles in the public eye in 2019 with firmer Brexit stances, but have failed to make further inroads since the middle of the year. The current composition of the House is as follows: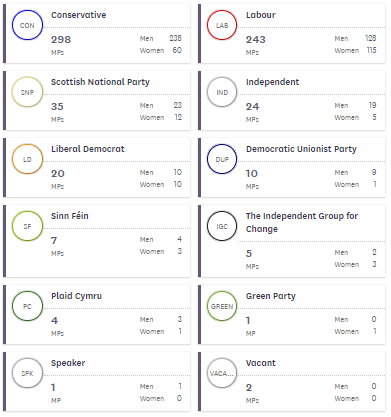 What do we expect?
As the UK political landscape is quite fractured and campaigns are still underway, we believe a lot can happen between now and then. Our prognosis from current polling and bookies suggests two results are more likely come election day.
Result 1: Conservatives regain a working majority government.
Conservatives currently have 298 seats in parliament and lead the polls as seen below. Should they fail to get 326 seats, it may be difficult for Johnson to stay in parliament as the Conservatives don't really have friends elsewhere. This is Johnson's election to lose
Result 2: Fractured parliament with no majority.
Betting odds have also thrown this scenario squarely into frame. An agreement between Brexit Party and Conservatives could "get Brexit done". Otherwise, we could see a People's Vote should Liberal Democrats and Labour take leadership. How GBPUSD reacts to this scenario will depend largely on how strong the coalition government is.
What does this mean for UK markets?
We think that if either case eventuates, the narrative favours Deal or Remain respectively and lessens the likelihood of No-Deal risks. Consequently, we maintain that upside GBPUSD in the near-term is a higher probability outcome.
Scenario 1. Brexit No-Deal risks recede, GBPUSD breaks higher from the multi-month consolidation zone and UK 10y yields rally. GBPUSD upside medium-term target of 1.3383. Other upside levels to watch: 1.3 (Q4 resistance) and 1.3176 (Q2 highs).
Scenario 2. Remain risks heighten albeit with more Brexit uncertainty. This somewhat compromises GBP directon. A softer rally in GBPUSD is possible, but so is an immediate knee-jerk sell-off and exit of capital flows. Watch downside GBPUSD pivot levels at 1.2775-80 with the 50d-MA, 200d-MA and 1.25 also forming support. Interestingly, should Corbyn form a strong coalition, it could mean less fiscal austerity and consequently higher UK 10y yields (more fiscal, less monetary). That would be Sterling positive.