US and China both announced on Friday that a phase-one deal had been reached, which marked a shift from escalation to de-escalation.
While this is good news, the unorthodox process of the announcement and the mixed signals from each side suggest that things are not smooth behind the scene.
The next thing to watch for is the finalisation of the legal text and signing in early January. Then the two sides move on to phase-two, which will prove more difficult.
With the US election getting closer, however, we do not expect to see another round of escalation in 2020. But we should expect some bumps on the road, still.
Roll-back of tariffs marks important shift
As we highlighted in our China Weekly Letter on Friday (13.12.19), the most important thing that happened with the phase-one deal was that we have moved from a 1½ year long period of escalation to de-escalation (for an overview of the deal see box on page 3). This was a key assumption behind our expectation of a moderate global recovery in 2020. With the main potential trigger for a global recession in 2020 off the table, the clouds are starting to lift and the rays of light we pointed to in our Big Picture outlook earlier this month can shine through. This is further underpinned by the lower risk from Brexit as well.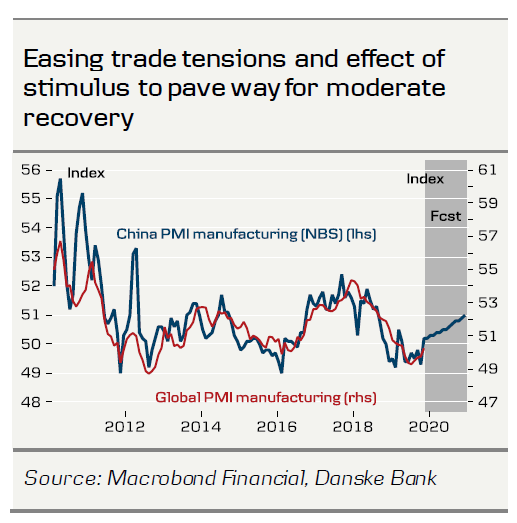 Escalation behind us but bumps on the road should be expected
While this is all good news, there are a few things about the process and the lack of detail that suggest there are still difficulties behind the scene in the US-China trade talks. First, the process of announcing the phase-one deal was quite unorthodox and seemed very uncoordinated. It all started with a Trump tweet on Thursday about US and China being very close to a big deal, followed by sources close to the talks stating that a phaseone deal had been reached. However, China was silent about this throughout Friday until they did a late night press conference (Beijing time) where they confirmed a deal had been reached.
Second, it is unusual to announce a deal before it has been completed with all legal text that both sides have agreed to. It adds to the sense that it was not coordinated.
Third, in one quite crucial area the two sides sent conflicting signals. Chinese Vice – minister of Commerce Wang Shouwen said "removing tariffs is the core concern of China" and that the phase one deal included a removal of tariffs in stages. However, in a statement shortly after, the US Trade Representative announced that there would be only one tariff reduction from 15% to 7½% on USD120bn of Chinese imports. And US Trade Representative Robert Lighthizer said later that the US had not promised a future roll-back of tariffs and added that it would be wise to be sceptical on whether China would deliver on certain agreements.
Finally, the tariff roll-back from the US was quite limited as the 25% tariff on USD250bn was kept intact. It is hard to believe that China will buy an extra USD200bn of US goods and services over the next two years (as it states in the US fact sheet) based on such a small tariff relief. Especially since it means giving away all of their leverage on Trump in the form of purchases of farm products. Hence, there is a risk that China will not live up to the phase-one deal if Trump does not give more tariff relief in later negotiations next year.
The above issues lead us to believe that there are still quite a few challenges left in the trade talks and we should prepare for some bumps on the road, still . Nevertheless, we doubt that we will go down a path of much further escalation in 2020. Trump needs China to buy more agricultural goods to heal some of the significant pain among US farmers ahead of the election, and more tariffs would also hurt the US economy at a point when growth has already fallen below 2% (Q4 currently tracking around 1½% GDP growth).
What is next?
Here is what we know about the timeline from here based on comments from the two sides:
Next two weeks: review and finalisation of text of phase-one deal
Early January: signing of the deal in Washington by US Trade Representative Robert Lighthizer and China's Vice-Premier Liu He
Immediately after: continue with phase-two talks on the more thorny issues.
What will phase-two talks include?
According to US Treasury Secretary Stephen Mnuchin, the next phase of the trade deal could come in stages: "Phase two may be 2a, 2b, 2c, we'll see", he said on Friday. While the phase-one deal has dealt with the US complaints about protection of intellectual property rights, forced technology transfer and currency manipulation, phase-two will move on to the more thorny issues. These include:
China's industrial p olicy and support of its technology sector
Opening up China more for investments in areas like telecommunication and cloud computing, data handling and the internet
It will also deal with non-tariff barriers aimed at favouring Chinese companies over foreign companies
Finally, enforcement covering these areas will be central for the US side.
Chinese sources have previously reported that China could meet 80% of the demands from the US, but not the last 20%. The areas left in phase-two cover some of this 20%, which will make it harder to reach agreement. This is probably why Mnuchin talks about phase- 2a, 2b etc. China's sup p ort to the technology sector, for examp le, has only been reinforced by the US export bans of key technologies to up to 150 Chinese companies, including Huawei. The increasingly confrontational stance adopted by the US towards China probably also means that the demands for control over the internet and data will only increase, which will make it hard to meet US demands for opening-up in these areas. China's Vice-Foreign Minister Zheng Zeguang said on Friday that China was committed to working with the US and avoiding confrontation, but also that it would not give in on sovereignty and security concerns. He also stated "China will continue to make its position clear regarding incorrect rhetoric from the US".
What we expect from here: a bumpy road
The first hurdle from here is to finalise the phase-one deal. Hopefully, it will be signed in early January as stated by the US side.
On the phase-two talks, we have expected for some time a 50-50 chance of a deal. We still look for this, as there is a lot of pressure on Trump to make a deal on more issues with China. He has already faced criticism both from his own party as well as Democrats for 'selling out'. China will also not be satisfied with the current roll-back of tariffs, which is very limited.
The road ahead is not easy and we should expect it to be a bumpy one, especially if China believes the US side has committed to further tariff roll -backs and Trump does not deliver on that. That could lead China to scale back on farm purchases and the trade talks could turn sour. However, as stated above, we expect the trade war to have at least peaked and with US growth under pressure, we do not see Trump implementing major increases in tariffs in 2020.