In what has become a familiar pattern over the past few days, trading in Wall Street indices has taken on a mildly bullish tone following the hefty decline the previous day. The same thing happened yesterday, only for the gains, and more, to be wiped out during the US session. Let's see what today holds.
Since the US close, the US30 index has risen 0.42% and the NAS100 0.53%. The rebound in the China50 index is more pronounced, with a rally of more than 2% while the HongKong33 index is up just over 1%.
In the currency space, USD/JPY has risen 0.26% to 110.50, potentially facing its first up-day in four. The US dollar has recovered a bit of its mojo after yesterday's decline, with EUR/USD slipping 0.13%, GBP/USD 0.08% and AUD/USD 0.02% as the pair just about clings onto the 0.66 handle.
AUD/USD Daily Chart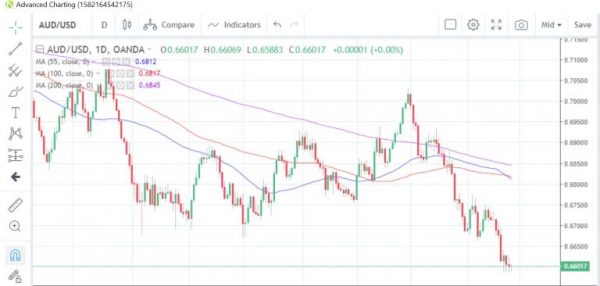 Near a bear market?
Looking at the US indices, the decline from the mid-February peak has been between 8.2% and 9.7%, perilously close to the 10% retracement which is seen signalling a shift to a bear market scenario. The biggest drop was seen in the NAS100 index, which closed below the 55-day moving average yesterday for the first time since October 9. The 100-day moving average is at 8,641.
NAS100 Daily Chart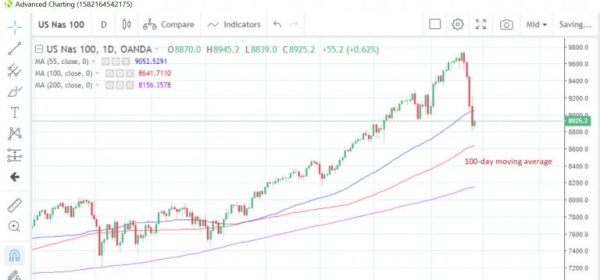 Another weak quarter for Hong Kong
Hong Kong releases its Q4 GDP data later today, with expectations for another negative print of about -3.0% from the previous quarter. Granted, this was before the full impact of the CoVid-19 outbreak was being felt, but the economy and businesses were already reeling from months of anti-government protests.
South Africa's finance minister delivers the 2020/21 budget today amid a ballooning budget deficit and rising debt levels. The contents of the budget could determine whether Moody's downgrades the country's debt rating to junk next month, which would be yet another negative for the beleaguered rand.
The rest of the data scheduled for today include Singapore's industrial production for January. Another negative print of -5.3% y/y is expected, but that can be partly explained by the timing of the Lunar New Year this year. Nevertheless, the numbers are unlikely to be inspiring.
US new home sales probably rose 3.5% m/m in January, according to the latest survey of economists. That's a turnaround from December's 0.4% decline and would be only the second monthly expansion in five months.