The commodity-linked Canadian dollar, which has benefited this week from a rebound in energy prices, extended its gains on Friday despite data out of the country indicating softer inflation and retail sales in June. The focus now turns to the Bank of Canada, which is expected to maintain the hawkish stance it held earlier this month.
Statistics Canada released on Friday the latest numbers on inflation and retail sales. According to the data, Canadian headline CPI turned negative in June for the first time since December 2016, falling as expected by 0.1% month-on-month from a positive 0.1% in May. On a yearly basis, CPI reached its lowest growth since October 2015, rising in line with expectations by 1%, down from 1.3% in the previous month. Excluding energy and food prices, core CPI remained unchanged, standing flat at 0.1% month-on-month and 0.9% year-on-year.
Regarding retail sales, consumer spending in May moderated to 0.6% month-on-month from the downwardly revised 0.7% in April. Yet, the figure surprised analysts who anticipated instead an increase of only 0.2%. More surprising, however, was the shift in core retail sales. The figure missed the forecast of 0.3%, dropping by 0.1% and diverging significantly from the previous figure of 1.3%.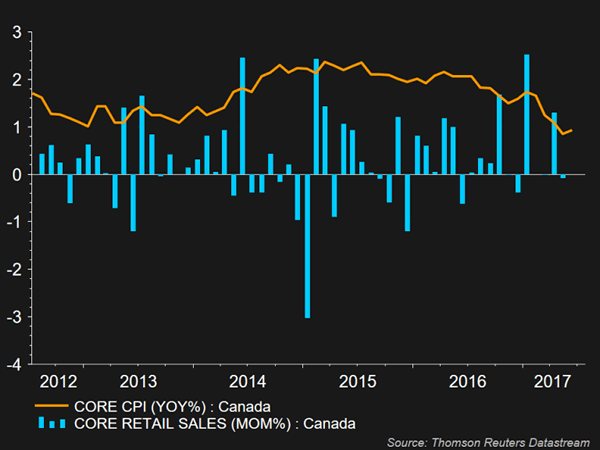 Earlier this month, the BOC raised interest rates for the first time in almost seven years on the back of stronger labour and housing markets. However, Governor Stephen Poloz mentioned during a recent speech that the bank will proceed with further monetary tightening in the future if economic conditions appear to be improving and inflation gradually moves back towards the target of 2%. Although today's data seem to reduce the odds of an additional rate hike as the gap between inflation and the 2% target widens, market watchers remain optimistic that the Bank will not change its hawkish view. Instead, they believe, that policymakers will be satisfied with the numbers when they meet again in the autumn, most likely in October, to decide on interest rates.
Turning to the reaction in the forex markets, the loonie advanced against its US counterpart, extending its daily gains. The loonie jumped immediately after the data to rise to C$1.2545 from around C$1.2600, before hitting a fresh 14-month high of C$1.2521.