On early Thursday, the yen partially reversed yesterday's losses after statistics out of Japan showed a surprise improvement in domestic consumption and the labour market. This is said to put the BOJ's recent arguments for maintaining current policy into question and will likely encourage policymakers to scale back their ultra-loose stimulus program in the future.
In June, the unemployment rate in Japan beat forecasts according to the Japan Institute for Labour, falling from 3.1% in May to 2.8%, while analysts anticipated the figure to slip to 3% instead. The availability of jobs which is measured by the jobs to applications ratio rose slightly to 1.51, exceeding the 1.49 observed in the previous month and the 1.50 forecasted. Despite the marginal increase, the ratio climbed for the fourth consecutive month reaching the highest on record in 43 years.
Concerning consumption, household spending continued expanding in June, rising by 1.5% month-on-month, which was more than double the previous reading of 0.7%. The positive figure was a surprise, as based on forecasts, household expenditure was anticipated to decline by 0.1%. On a yearly basis, consumer spending turned positive for the first time in a year, climbing unexpectedly by 2.3%. The reading in May was down by 0.1%, whereas for the month of June, analysts expected a rise of 0.6%.
Separate data showed that retail sales experienced an increase as well, climbing by 0.1 percentage points to 2.1% and missing the forecast of 2.3%.
Looking at prices, national CPI was in line with expectations, remaining steady at 0.4% in June on an annual basis. Note that, CPI has followed an upward path since the beginning of the year. Excluding energy and food products, national core CPI did not change from 0.4% seen in May.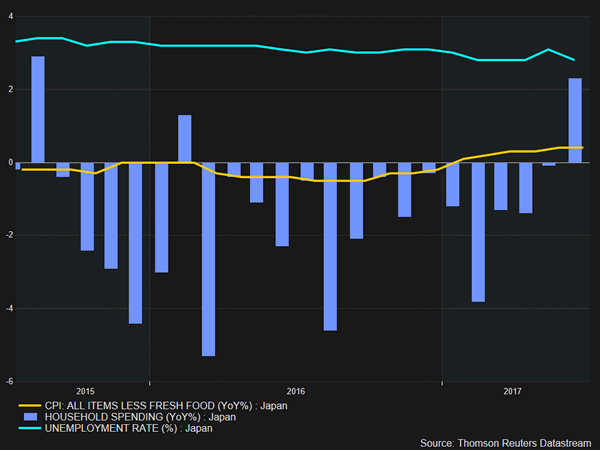 Last week, the BOJ decided to maintain its ultra-easy monetary policy under concerns that inflation will take more time to approach the target of 2%. However, the above data on employment conditions and consumption will likely motivate companies to raise prices sooner than anticipated and therefore increase stubbornly low wage growth. This would give a signal to BOJ policymakers to rethink their recent conclusions as inflation might not delay hitting the desired target after all.
In the forex markets, the data drove the yen higher against the greenback by 0.22%, with dollar/yen falling from 111.22, before the data release, to 110.98.