The Dollar Index Bounce Strongly On Cards
Euro Weaker Against Dollar But Strong Against Sterling
The Dollar Index Bounce Strongly On Cards
The US JOLTS data also gave traders hopes that the US firms will keep employing and the pace of hiring would be solid. At the same time, there are less people who are quitting their jobs, a measure which the Fed keeps a close eye on. This confirms that the health of the US jobs market is sturdy and the dollar moved higher on the back of that. However, James Bullard, the St Louis Fed president, had a very dovish tone because he thinks that the inflation is not strong enough. Neel Khaskari, who is also a voting member of the Fed committee has the same dovish stance and he doesn't not favour another rate hike.
We need to break the level of 94 for the dollar index in order to have a firm confirmation that the trend has changed. The dollar index also needs to stay above the 100-day moving average. The technicals are favouring that we are going to break to the upside.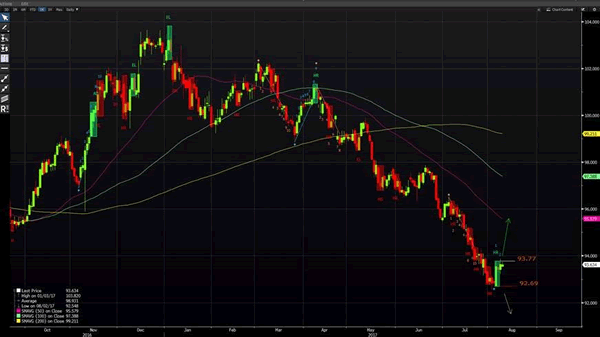 Euro Weaker Against Dollar But Strong Against Sterling
The Euro is losing its mojo against the dollar but is still strong against the Sterling. The French trade balance data confirmed that the French economy has improved. Similarly, the German economy is in the healthy territory. However, the recent strength in the euro surely presents a much larger threat to export. The upcoming GDP number for Germany is also expected to print a more positive reading. That would put more pressure on the ECB to start the process of tapering. Tapering doesn't necessarily mean that the Euro would move higher because if the ECB shows that they are concerned about the Euro strength, they would surely knock its strength down.