Key Points:
Price action creeps towards the key 1.20 level.
RSI Oscillator nearing overbought levels.
Watch for a period of moderation before a break of 1.20 leads to rapid appreciation.
The Euro has continued to creep higher over the past few weeks as the currency pair has moved to form a new high for 2017. Much of the upward pressure has been to do with a weakening U.S. economy which has spurred capital flows away from the greenback and this has brought with it some robust conditions for the Euro Dollar. However, it remains to be seen if the pair can assail the psychological 1.20 handle, which is acting as some natural resistance, in the coming days.
Presently, the fundamental fear factor around North Korea has been driving capital flows away from the greenback and into safe haven's such as Gold. In addition, the rogue state's recent missile launch over Japan has increased the mounting risk of conflict and this is acting as an additional support for the Euro, amongst other currencies. Additionally, the U.S. Trade Deficit (GOODS) also widened overnight to -65.1B which has had a flow on effect for the USD and adds to the Euro's buoyancy.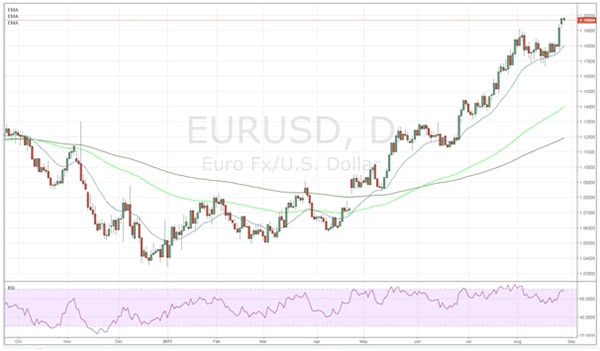 However, technical factors for the Euro Dollar are likely to rule the roost in the coming days with the RSI Oscillator nearing overbought levels whilst price action reaches towards the mythical 1.20 resistance level. Subsequently, there is some evidence that a pause is what is needed for the currency pair in the short term. A short period of consolidation would relieve some of the building pressure and allow the Euro to prepare for an assault on the 1.20 level.
At this stage, it's only a matter of time before price action breaches the 1.20 resistance level and when this occurs it could lead to a significant increase for the pair. In fact, the consensus view appears to be that price action could rapidly move towards the 1.22 handle or higher over the next month. Much of this is based on speculation that the ECB will start to wind back its bond buying program in September and this would bring with it sharp gains for the pair. Additionally, the 5-year average for the Euro Dollar sits around the 1.21 mark so gains above this level are not totally unrealistic.
Ultimately, the short term outlook argues for some moderation for the pair whereas the Medium term view is one of strong bullishness. Subsequently, the pair would bear watching over the next few days because when it eventually breaks through resistance at 1.20 the rise will be relatively rapid indeed.