The Japanese yen is in positive territory in the Monday session and has pulled away from the 110 level. Currently, USD/JPY is trading at 109.54, down 0.37% on the day.
Markets eye FOMC meeting
There are a host of central bank meetings this week, with both the Federal Reserve and the Bank of Japan policymakers gathering on Wednesday. The expectations ahead of the two meetings could not be more divergent.
The FOMC has the full attention of the markets, and any comments from Fed members ahead of the meeting will be splashed in the headlines and could move the markets. Investors haven't been able to put a finger on the timing of a taper, but there is growing speculation that at the upcoming meeting the Fed will signal that it will begin tapering at the November meeting. The US dollar is already rallying ahead of the meeting, and even a hint of a November taper should fuel further gains for the greenback. Investors will be combing through the rate statement as well as the dot plot – if the Fed brings forward rate hike expectations, the US dollar should respond with strong gains.
The situation couldn't be more different when it comes to the Bank of Japan. With Japan's economy limping and many regions under a state of emergency due to Covid, I don't expect the Bank to do much other than put on a brave face and try to sound positive about a rather bleak economic picture. Inflation has been mired in negative territory for the past 12 months, so it would be a small achievement if CPI is flat in August. What could have a greater impact on the movement of the Japanese yen are developments on the political rather than the economic front. Next week, the ruling LDP holds a leadership vote to determine who succeeds Prime Minister Suga, with an election to be called in October.
USD/JPY Technical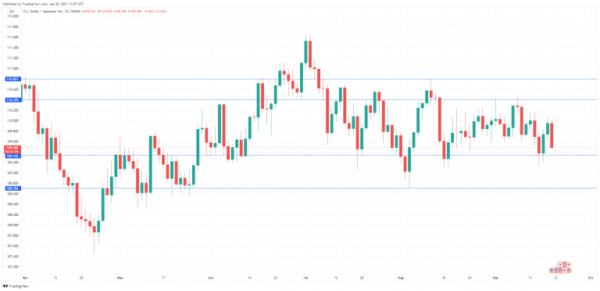 110.39 has some breathing room in resistance with USD/JPY moving lower. Next, there is resistance at 110.80
On the downside, the pair is putting strong pressure on 109.34. Below, we find support at 108.70