China's foreign trade data for December was another demonstration of why the government went for a loosening of covid restrictions. Exports last month were 9.9% below levels a year earlier, accelerating the decline from November's -8.7%. Imports lost 7.5% to the same month a year earlier. The foreign trade surplus was $78.0bn, compared to $70bn a month earlier and $93.7bn 12 months ago.
The data marginally exceeded expectations but overall shows stagnant foreign trade activity during 2022, reminiscent of 2014 and 2015, which were tough years for China.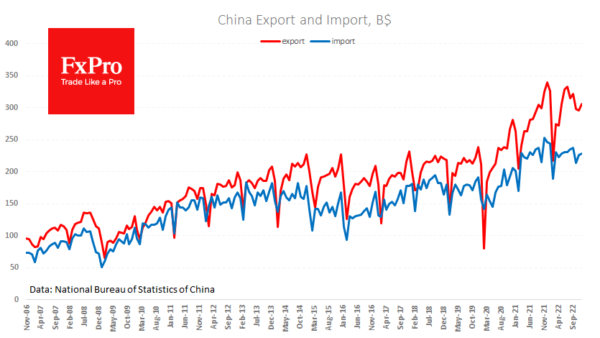 That said, the weak data from the last months of last year and the first months of 2023 promises to form a favourable basis for comparison, as the easing of restrictions during December and the almost complete removal of restrictions will revive economic activity.
In addition, there is a certain softening of the rhetoric of the US and Chinese trade representatives, which should also be favourable for foreign trade. It is also worth noting that commodity and energy prices are now noticeably lower than in the middle of last year, which will further revive activity.