The Bank of Japan, which has not changed interest rates for the past six years and remains fully committed to QE, sparked a strong market reaction by leaving policy unchanged today. The Bank of Japan surprised markets at its last meeting by announcing that it would now target a range rather than a specific level. This was seen by many, including us, as a first step in the gradual abandonment of the quantitative easing and negative rate policies that the BoJ has been pursuing alone amongst large peers.
The outgoing central bank governor, Kuroda, was hesitant to change course at the end of his term, which expires in April.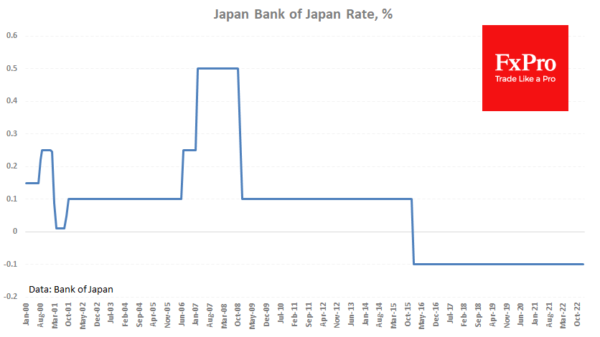 This adherence to the previous course came as a surprise to the foreign exchange market. Within two hours of the announcement, the USDJPY jumped 2.5% to levels near 131.60. Despite the impressive move, it only managed to bring the exchange rate back to the levels at the end of last week. And then, we saw a sustained pair reversal towards the downside.
By the beginning of the active trading in the USA, the Yen was back to 128, where it had started the day, and even briefly fell to its lowest levels since Monday. The yen market dynamics during the day suggest that investors and traders remain confident that the Bank of Japan will still turn towards a tighter monetary policy.
By now, the yen has recovered about half of its losses incurred on the divergence of Fed and BoJ policy since the start of 2021. The market has gone too far in believing that Japan can make a reversal as dramatic as that of the USA or even the Eurozone.
Moreover, the bears in the USDJPY need a reset for a new downward move. From a fundamental analysis point of view, it is also more likely that the yen will return to a declining trend but not develop a rising trend. This is doubly so when we have the reassurance of the BoJ maintaining its ultra-soft policy contrasting with Bullard's comments from the Fed that it is necessary to bring the rate above 5.0% as soon as possible (+50 points to the current level) and then watch the information coming in.