The Canada's central bank is expected to slow the pace of interest rate hikes at next week's policy decision. And odds are that the 25 basis point increase we anticipate (down from the 50 basis point increase in December) could be the last of this hiking cycle.
Though broader inflation trends are still running above the Bank of Canada's 1% to 3% target range, they've already shown clear signs of losing steam. And the lagged impact of the 400 basis points of BoC rate increases in 2022—the most aggressive hiking cycle in decades—is still filtering through to household and business borrowing costs. We expect household debt servicing costs to rise to record levels by mid-2023. Housing markets have already softened significantly. And consumer demand is likely to contract as Canadians feel the pinch of higher debt-servicing costs and prices. Our own RBC cardholder data shows restaurant spending declined in December, suggesting discretionary spending may be starting to flag.
Labour markets continue to defy this trend. An unexpected surge in employment in December and a decline in the unemployment rate to a near record low of 5% is the main reason we expect the BoC to follow through with one final rate hike. Still, interest rates are likely high enough now that labour markets will soften in 2023.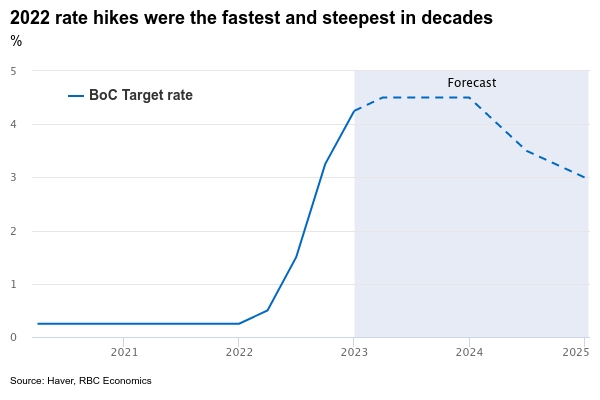 Week ahead data watch
Q4 U.S. GDP growth likely slowed in Q3 (we expect a 2.0% annualized increase) due to a wider net trade deficit and weak residential investment offsetting stronger consumer spending growth.
Personal spending in the U.S. is likely declined by 0.4% in December, following the weak 1.1% drop in retail sales already reported. We expect a 0.2% increase in December personal incomes, with a 0.3% increase in average hourly earnings partially offset by a 0.1% dip in hours worked.
The Canadian SEPH data will be watched closely for signs that labour market tightness could be easing. Earlier data from the monthly Labour Force Survey already flagged lower unemployment over November and December but the number of job vacancies from the SEPH data has been edging lower in recent months.(1.8%).