The Canadian dollar is coming off a relatively quiet week but that could change as there a host of key releases this week. Ivey PMI kicks things off later today, followed by the Bank of Canada rate decision on Wednesday and the February employment report on Friday.
Canada's Ivey PMI recorded a massive rebound in January, climbing from 33.4 all the way to 60.1 points. A reading above 50.0 points to expansion. The reading is expected to remain strong in February, with an estimate of 57.7 points.
Canada's economy ended 2022 in an unimpressive fashion, posting a growth rate of 0.0% y/y in the fourth quarter, compared to 2.3% in Q3. This was much lower than the market estimate of 1.5% and the Bank of Canada's projection of 1.3%. On a monthly basis, December GDP contracted by 0.1%, down from 0.0% in November and below the estimate of 0.0%.
BoC expected to pause
The Bank of Canada meets on Tuesday and is widely expected to hold rates at 4.50%. A non-move would be significant, as the BoC hasn't taken a pause since the current rate-tightening cycle began in January 2023. Governor Macklem has signalled to the markets that he wants to take a pause in tightening, and the weak GDP report will support the BoC easing off the rate pedal as the economy shows signs of slowing. The steep hike in rates has pushed inflation lower, as it fell to 5.9% in January, down from 6.3% a month earlier.
What will the BoC do after tomorrow's rate decision? The BoC would love to pause rates throughout the year, but Macklem has made clear that a pause is dependent on supportive data. There is also the complication that the Federal Reserve is likely to continue hiking several more times this year, and the BoC does not want to fall too far out of sync with rate levels in the US.
In the US, this week's key events are Fed Chair Powell's semi-annual testimony before Congress and the nonfarm payroll report, both of which could move the US dollar. If Powell provides any hints about further rate hikes, the US dollar could respond with gains.
Nonfarm payrolls was red-hot in January with 517,000 new jobs, but this is expected to be a one-time bump, with the estimate for February standing at 200,000. The surprisingly resilient labour market has the Fed concerned about wage pressures, and a strong wage growth release could raise market expectations of higher rates.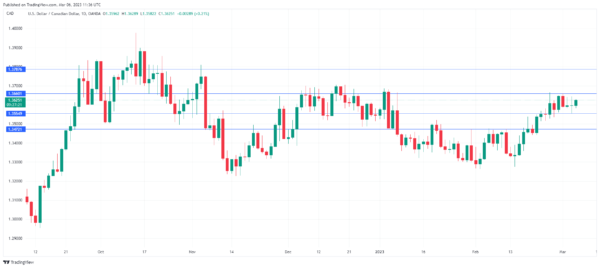 USD/CAD Technical
1.3701 and 1.3784 are the next resistance lines
1.3571 is a weak support line, followed by 1.3478