UK inflation in September rose to a 5 ½ -year high according to the Office for National Statistics, gaining one percentage point above the BOE's 2% target and igniting speculation that a rate hike could emerge in the BOE's November meeting. However, the pound could not sustain the uptick triggered by the data, giving away its gains, after the BOE chief and deputy governor held a dovish stance during parliamentary testimony.
Headline consumer prices matched expectations, increasing by 3.0% y/y in September but remaining close to August's mark of 2.9%. The growth in prices was mainly attributed to rising dairy and food prices as well as to the relatively weak currency. Excluding food and energy items, the CPI stood flat near a six-year high at 2.7%. On a monthly basis, the headline inflation fell from 0.6% to 0.3% as expected, while the core equivalent missed the forecast of 0.3%, declining from 0.6% to 0.2%.
Regarding producer prices, input costs came in higher than expected climbing steadily by 8.4% y/y (August's mark was revised upwards from 7.6% to 8.4%), while analysts had projected a growth of 8.2%. The cost of outputs sold by manufacturers came in line with expectations, edging down by 0.1 percentage points to 3.3% y/y.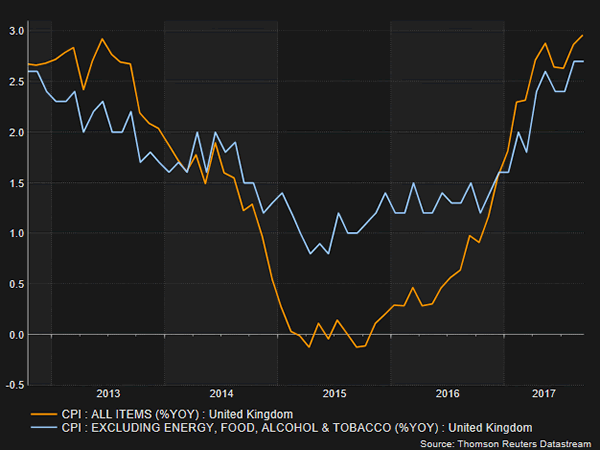 With inflation strengthening above the BOE target and the BOE chief, Mark Carney, hinting last week that a rate hike would be appropriate "in the coming months", traders were pricing that a rate rise would likely be delivered in November when policymakers will gather to decide on monetary policy. However, the weakness in wage growth and economic activity could persuade rate-setters to maintain their accommodative policy as the fourth round of Brexit negotiations failed to agree on a transition period and the divorce bill, raising fears of a "no deal" Brexit.
Following the data release, Carney held a less hawkish speech in front of the Treasury committee at the Parliament, saying that the BOE'S target is to keep inflation at 2% and that "building a war chest in interest rate terms" to mitigate future shocks is "not appropriate or necessary given that policy can move quite nimbly if required". He also stated that the MPC committee expects inflation to peak above 3.0% in November or October, while asked about Brexit he replied that British Banks have worked more on a hard Brexit scenario under no transition period than EU banks have done.
Earlier, the BOE deputy governor, Dave Ramsden, admitted that he did not vote for a rate hike in September's policy meeting as earnings remain subdued despite growth in employment, while he also added that he would like more time before taking a decision on interest rates in November. The new MPC member, Silvana Tenreyo, claimed that she was not ready to support higher rates unless "inflation pressure builds in Britain's labour Market".
In the wake of the data, the pound immediately hit an intra-day high of $1.3286 but it soon tumbled to $1.3169 after BOE comments, being 0.60% down on the day. Euro/pound was 0.11% up at $0.8911.