Rate cut odds for the December FOMC meeting now stands at 15.1% vs 16% yesterday
Protection against yen strength rises to a four-month high
Bearish tones emerging for USD/JPY as top Ichimoku cloud tested
The Japanese yen is catching modest bids here as stocks soften on Microsoft's disappointing AI outlook and as pressure builds for the BOJ to tighten.
Microsoft's results were adequate, but that won't be enough to keep the mega-cap tech/AI trade going.  Profit taking will likely remain the dominant theme for tech, especially if Meta disappoints after the close.  Microsoft's slowdown with their cloud business and lowering the bar for their AI growth should only trigger a modest pullback.  Microsoft is still winning the AI race and still seems to have a robust long-term outlook.
The BOJ got some solid advice about their yield curve control program from the IMF Chief Economist Gourinchas.  He said, "Our advice for the Japanese authorities is that right now monetary policy can remain accommodating, but it needs to prepare itself for the need to maybe start tightening."
The clock is ticking on the BOJ and they may want to move away from YCC sooner than later as an abrupt change could cause unwanted market chaos.
Fed
Ahead of the Fed, it seems Wall Street is extremely confident the Fed will be one-and-done.  Fed Chair Powell will argue that one cool inflation report doesn't mean their inflation fight is almost over and that another rate hike will depend on the data.  The Fed will skip tightening in September and the economic slowdown should allow them to refrain from raising rates in November.  The market is starting to price in rate cuts in December and that will probably be met with a strong rebuttal from Powell.  Powell will say they are not cutting this year and that higher for longer should be the outlook for rates.
Yen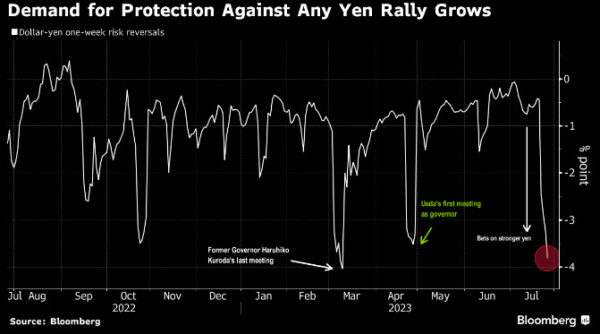 The big trade in FX this week might be the Japanese yen.  Leading up to the BOJ decision, traders are putting on hedges in case Governor Ueda surprises us with a tweak to YCC.  The one-week risk reversals for USD/JPY are now at the lowest levels in four months.  If more hedges keep piling in, that could provide some more short-term strength for dollar-yen.
It might be hard to see significant positioning before the FOMC decision, but if yen strength remains the dominant theme post-Powell, this trade could continue to Friday's BOJ event.  On a break of the 140.00 level, momentum traders could see prices target 139.14, which is the 38.2% Fibonacci retracement level of the March low to July high move.