The US dollar is continuing the rally that began in the middle of last month, benefiting from the caution in financial markets in recent days. Although the current rally has not yet brought the Dollar Index back to the levels seen before the massive sell-off in early July, the recent Dollar rally could become a long-term trend.
The Dollar has recently been supported by robust macro data, including yesterday's ADP report of a 324k increase in private-sector employment. The largest weekly drop in commercial oil inventories also indicates domestic solid demand. The markets are now getting the message from the Fed that we don't have to wait for a policy reversal soon and that rate hikes are not over yet.
The Fitch downgrade has breathed new life into the dollar rally. As a first step, investors are getting rid of the weakest assets in their portfolios by buying more liquid Treasuries and the dollar. If the US's image is damaged, it may take months for the overhang of selling to reach the most protective instruments.
In 2011, the S&P downgrade of the U.S. triggered a multi-year rally in the dollar as other countries fared even worse, not to mention riskier corporate bonds.
Something similar could happen this time around. In that case, the 100 level on the dollar index could be a new stepping stone to start another multi-year rise. The levels of 80 from 1990 to 1995 and in 2014 and 90 from 2017 to 2021 played roughly the same role.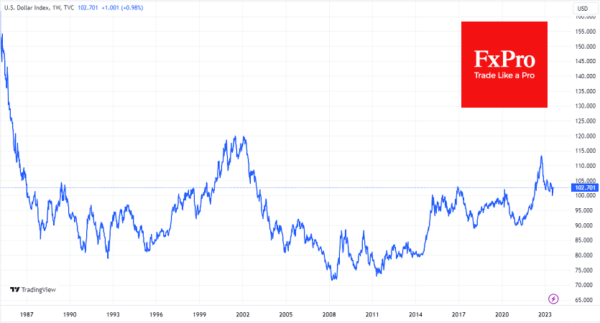 However, the long road must begin with the first step. The dollar index has been in a downward channel since last November, with its upper boundary now near 103.2, but to confirm a reversal, the dollar would need to climb above the previous local peak at 104.2.
The 200-day moving average is near 103.40, and a move up to it from the current 102.5 may be a much easier task than consolidating above it. But if it happens, the importance of this signal for FX and global markets must be emphasised.