Australian employment increased by 64,900 in August (2,800 full-time, 62,100 part-time)
Participation hits 67%, a new high
Is a double bottom forming in AUDUSD?
The Australian jobs data on Thursday was surprisingly good, with the number of new jobs created vastly exceeding expectations, although the bulk were in part-time roles.
Participation also unexpectedly improved, hitting 67% for the first time which will be very welcomed by the central bank as it, and every other one around the world, seeks to defeat inflation while achieving a soft landing. That job will be much easier if the tightness in the labour market is eased through more people joining it, rather than people losing their jobs at higher interest rates bite.
Despite these promising figures, markets are still positioning for another possible rate hike from the RBA over the coming meetings under the new leadership of Governor Michele Bullock. One more hike between now and the middle of next year is around 40% priced in which is arguably quite high under the circumstances.
RBA Interest Rate Probability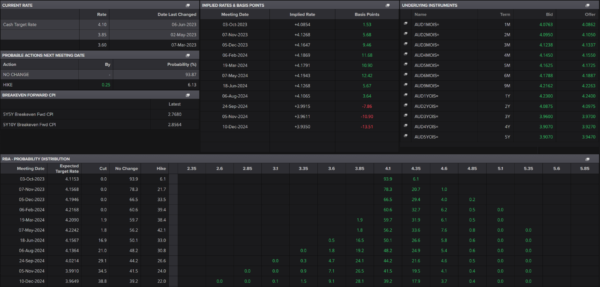 Source – Refinitiv Eikon
Aussie buoyed by jobs figures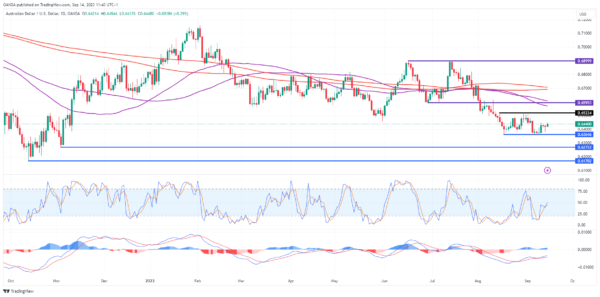 The technical picture in AUDUSD is really quite interesting. On the face of it, it's been range-bound for the last month and therefore doesn't look particularly exciting.
But two things stand out. One is the double top that formed between early June and August. The sell-off that followed was quite swift, falling around 230 pips over the following couple of weeks before the consolidation started. But with the double top itself being around 300 pips from the peak to the neckline, is there theoretically more to come? I'm sceptical considering how long it's been trending sideways but it's possible.
AUDUSD Daily
Source – OANDA on Trading View
The second is the potential double bottom that's now formed during that consolidation period. With the neckline around 0.6520, a break above here could be quite a bullish move and, in theory, offer a possible price projection based on the size of the pattern. Obviously, there are no guarantees but a break of the neckline would make things interesting.