China's Q3 GDP, Retail Sales, and Industrial Production for September beat expectations.
China's Country Garden is still at risk of an imminent default as its grace period of overdue bond coupon payments of US$15.4 million expires today.
The FX market is ignoring the default risk of Country Garden as the offshore yuan (CHN) has continued to trade sideways against the US dollar since 28 September.
The resilience of CNH against the US dollar has triggered a dissipating US dollar strength movement against CHH's proxies (AUD & SGD).
China's trio of key economic data has managed to surpass expectations to the upside where Q3 GDP came in at 4.9% y/y, above consensus estimates of 4/4% but below Q2 print of 6.3% y/y. Growth in retail sales for September rose at the fastest pace in four months; 5.5% y/y accelerated from 4.6% y/y in August and beat expectations of 4.9% y/y.
Industrial production also managed to beat expectations marginally as it grew 4.5% y/y in September, above consensus estimates of 4.3% y/y but unchanged from 4.5% y/y in August.
Overall, the current targeted approach of expansionary fiscal and monetary policies adopted by China's top policymakers seems to be working at this juncture and has negated the risk of a deflationary spiral triggered by a prolonged property market crisis and weak external demand. Also, a growing hope that China will be able to meet its 2023 official annual GDP growth target of around 5%.
Liquidity crunch is still lingering in China's property market
However, the coast is not all clear yet to bring out the champagnes for an early celebration as severe liquidity crunch conditions are still lingering in China's property market where the canary in the coal mine now is Country Garden, the largest private property developer.
Time is running out for Country Garden to restructure its overdue coupon payments of US$15.4 million of a public dollar bond as its grace period expires today, 18 October where a no payment will trigger a default clause. Even if Country Garden manages to doge the "default bullet" today, it still has a slew of overdue coupon payments of dollar bonds where their respective grace periods are expiring soon with the next one on 27 October for overdue coupon payments that amount to US$40 million.
FX market is ignoring the heightened default risk of Country Garden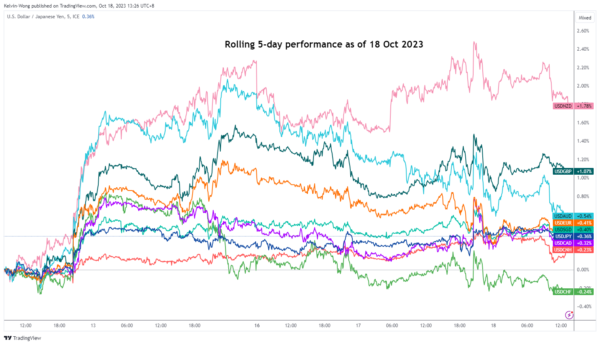 Fig 1:  USD major pairs rolling 5-day performance as of 18 Oct 2023 (Source: TradingView, click to enlarge chart)
Interestingly, current short-term price action movements depicted in the foreign exchange market are not pricing in the potential imminent default of Country Garden that can trigger a systemic risk in China and even globally. The offshore yuan (CNH) has been resilient against the recent US strength seen against the European currencies (EUR & GBP). The USD/CNH rate has managed to hold steady below a minor range resistance of 7.3280 since 28 September.
The current bout of sideways movement seen in the USD/CNH has managed to trigger a minor US dollar underperformance against the yuan's proxies such as the AUD, and SGD. Based on a five-day rolling performance basis as of 18 October 2023, the USD strength against the AUD has dissipated since Tuesday, 17 October, and the USD/AUD has now recorded a gain of just +0.54% at this time of the writing from around +1.25% earlier.
EUR/AUD bearish reaction from 50-day moving average
One of the AUD cross pairs that is being impacted by the current set of rosy China's key economic data is the EUR/AUD.
In the lens of technical analysis, the current price action movements of EUR/AUD indicate a further potential corrective decline at least in the short term.
Several bearish elements have emerged; the recent +170 pips rebound from its minor swing low of 12 October 2023 has stalled right at the 50-day moving average where the EUR/AUD has been trading below it in the last four weeks.
The 4-hour RSI momentum indicator has staged a momentum bearish breakdown below a parallel ascending support at around the 50 level and has not reached the oversold condition (below 30).
These observations suggest that short-term downside momentum has resurfaced which in turn supports a further potential down move in EUR/AUD.
Watch the near-term support at 1.6550 (also the 20-day moving average) and a break below it may see a further slide to retest the 29 September 2023 swing low area of 1.6360/6320 in the first step.
However, a clearance above the 1.6710 key short-term pivotal resistance invalidates the bearish tone for a squeeze up towards the next intermediate resistance at 1.6890 (minor range top from 25 August/5 September 2023 and the 76.4% Fibonacci retracement of the prior minor short-term downtrend phase from 17 August 2023 high to 29 September 2023 low).